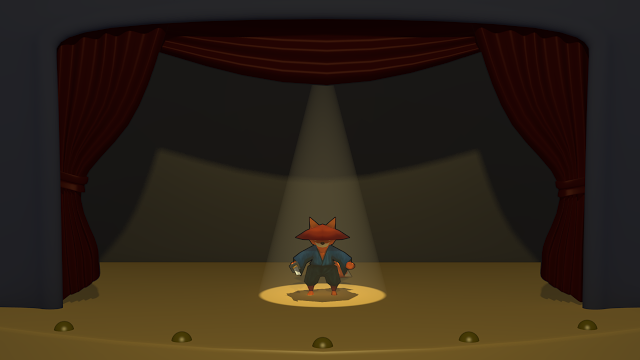 Hello again!
We've decided to make a small detour from our normal game development, and enter a pitching contest at NGS (Northern Game Summit). What this means, is that our coder is coding away, but the rest of the team is working on a pitching video as requested at the contest page. Provided that we make through the qualification (and why wouldn't we), we have a shot to present the game at stage and make 5000€. This money of course helps us make Project Ninja even more awesome than it is at the moment.
For those of you, who don't know what pitching is (it's a relatively new word in the corporate world), I'll give you a short description. Essentially a pitch is something that you present to investors, publishers, boss, etc, in hope of a benefit of some sort. The aim is to make them understand the game concept, and become interested of it. The structure of a pitch may differ according to the audience and things you want to promote, but one thing is always clear: make an elevator pitch. Now, an elevator pitch is your idea/concept wrapped in a sentence or two. The idea is, that you never know when you might have to present your game to someone, and only have 15 seconds to do it (for example while taking an elevator with someone important (hence the name)).
Practicing and preparing an elevator pitch is always good practice. From the game design point of view, if you can't do it, your idea is too convoluted or simply bad. The elevator pitch for Ninja could be:
"A stealth game set in medieval Japan for iOS"
...or for more game savvy person, you might add.
"Think Mini Ninjas meets Thief meets Tenchu"
This doesn't of course explain the whole game, but it might buy you a few more minutes in the actual office to give your whole pitch.
Ok, lecture is over. We have a tendency to do things well, or not do them at all. Therefore we decided to make some custom content for the video, rather than just give a monotonous pitch about what our game is and why we should get the money. In the end, a minute is plenty of time to present anything, so it boils down to the presentation of it. Above is a rendering of our WIP (work in progress) scene for the video.
Back to the game then. We haven't of course sacrificed every minute of our working time to this video. Last time I talked about the making of the script for Ninja. Well, that's still going, but so is level design. I'm not really supposed to be showing this stuff for you, but it's ambiguous enough to be shown. The following image shows, that you don't really have to have detailed level documentation to make it happen. A rough sketch is enough (at least in our case, where we only have three people working at it). The lesson here is that if you're making a game, find out the best and most efficient processes for you and your team to work with. e.g. we had a commercial project management tool for keeping the process flowing and organized, but we found out that a simple whiteboard was actually the most efficient project management tool for us.
Until next time!
Drop a comment, if you have something to ask, critique or praise. We're happy to have a chat with you about anything.
You can also contact us via e-mail: ninja@boogie.mygbiz.com