Hello everyone !

Welcome to the development update #2 article. Before we start we would like to talk about the 2 month delay. We had already mentioned the issue that had put us behind our planned shedule on our Twitter, but since Twitter only supports short messages we will repeat it in more details here. We also decided to abandon the monthly update plan to avoid this problem in the future. Small updates/screenshots will be posted on our twitter and update articles will be posted after we reach our goal.

For the May update we planned to show you the main and options menus with all the features - graphics settings, key bindings etc. During the development the menu was working fine in the UE preview mode. And that was the mistake - we never tested it in a compiled game. When we finally did near the completion, we found out that after lauching the game the menu would lock up on all computers except the one it was compiled on - which is indeed an odd bug. We tried to fix it, but nothing worked. We had to scrap it along with our development tools that we had already hooked into it and make a new one, which caused the delay. Hovewer, time we chose a different approach and the menu is now finally working correctly (and it´s also much nicer to look at). Which brings us to a part of todays update - the new menu itself.
The main menu:
Offers the following options: new game, loading a saved game, settings and credits. Settings is divided into four categories - graphics, controls, audio and language.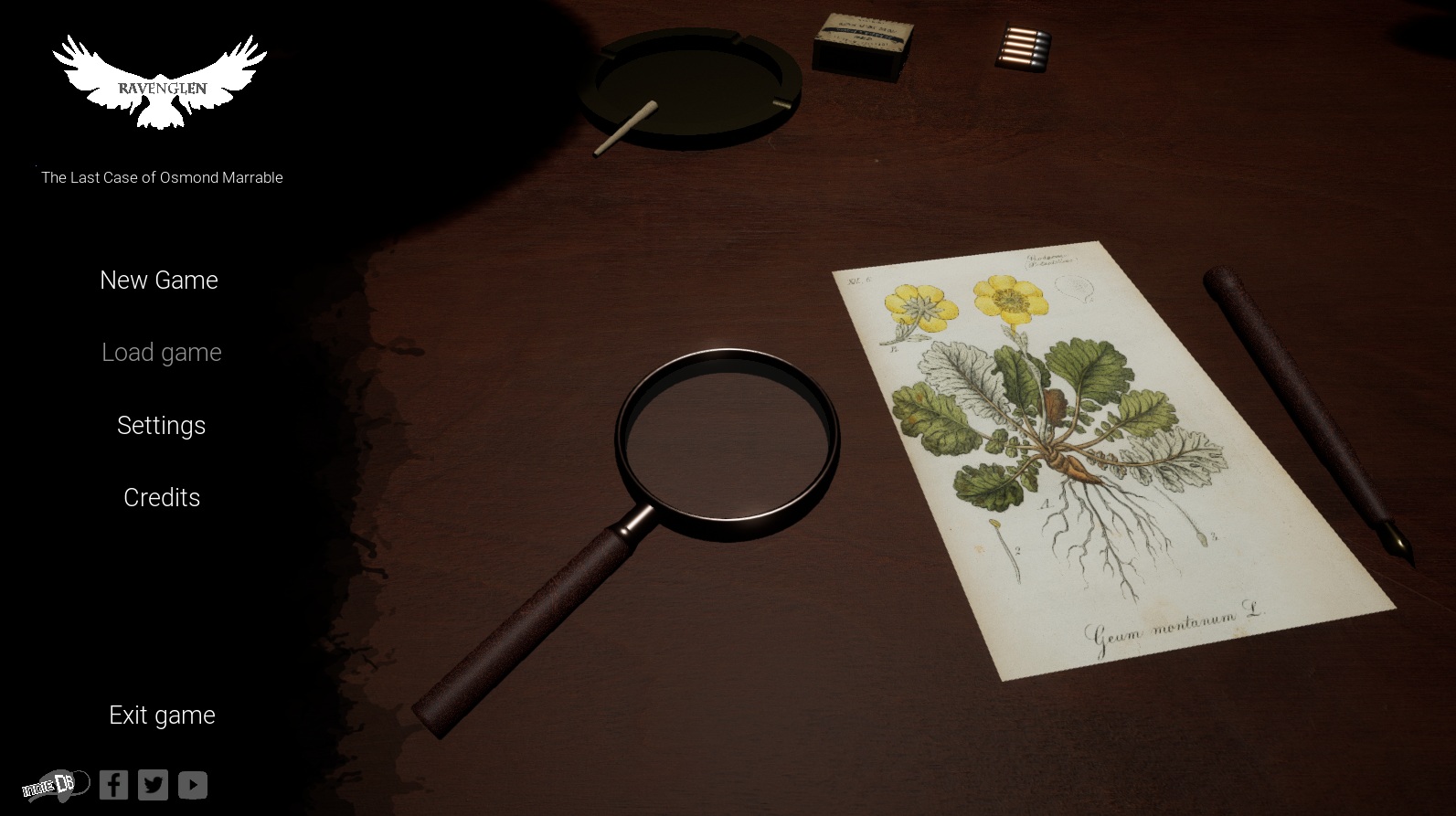 Graphics:
Supported resolutions are: from 1280X720 up to 3840x2160. Field of view : from 60 to 110. Basic settings for render distance, foliage density, quality of shadows etc. are included.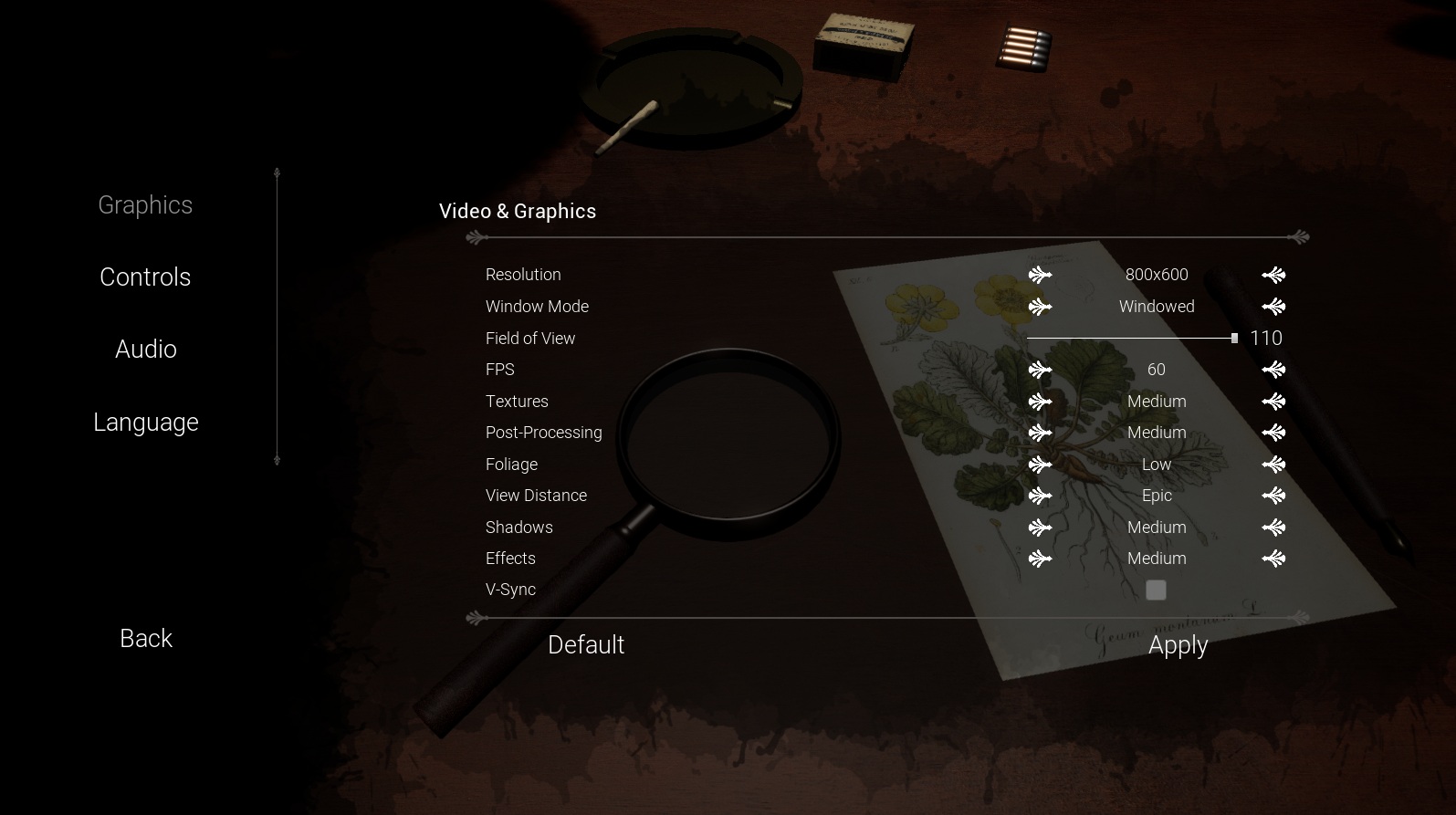 Controls:
For keyboard keys and mouse mapping (divided into two seperate categories) + basic mouse settings - sensitivity and flipping the Y axis.

Audio:
Sliders for master volume, sound effects, ambient effect and music (later in the development we plan to include a speech volume as well)-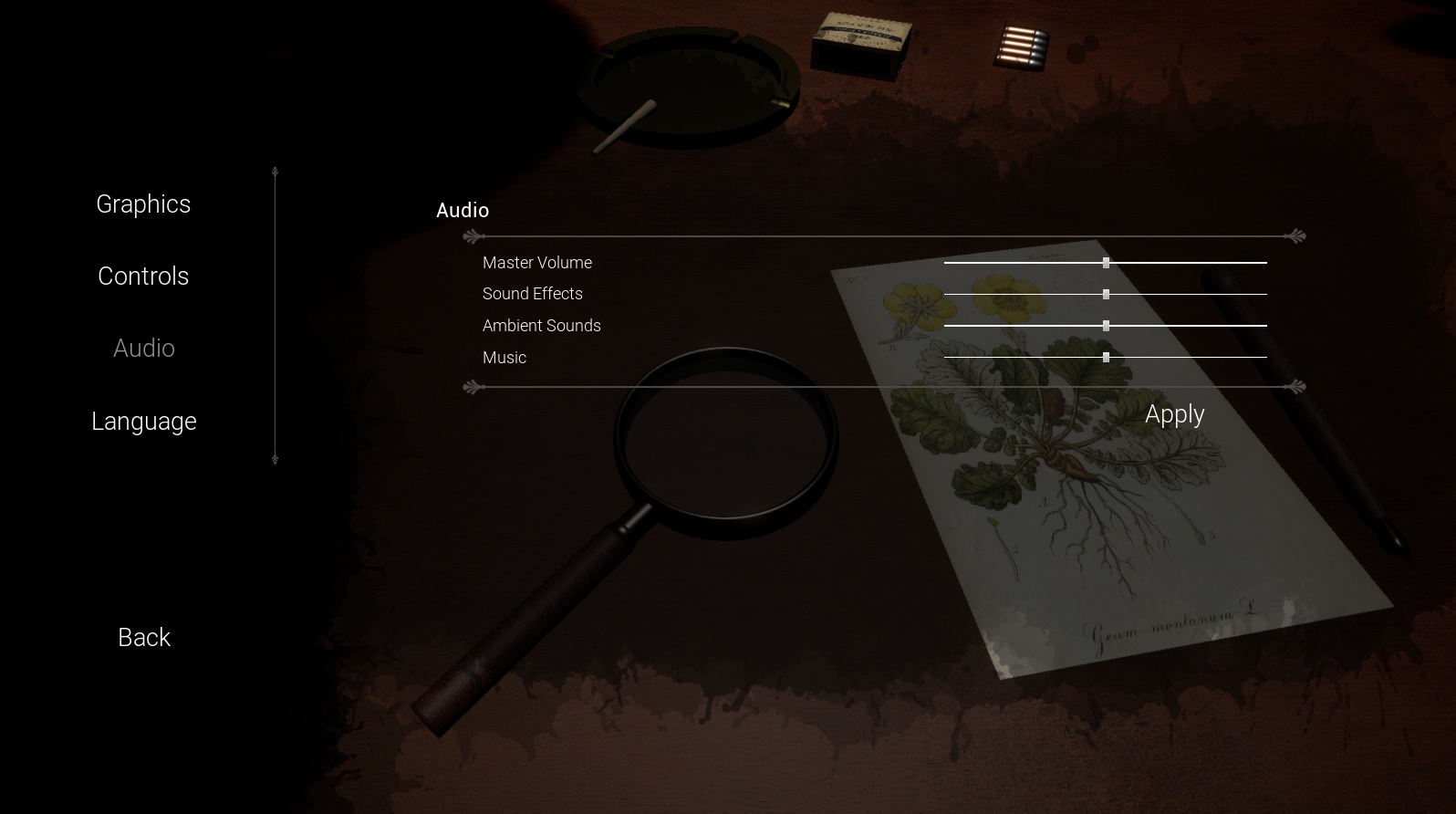 Language:
The menu supports English, French, Slovak and Czech languages.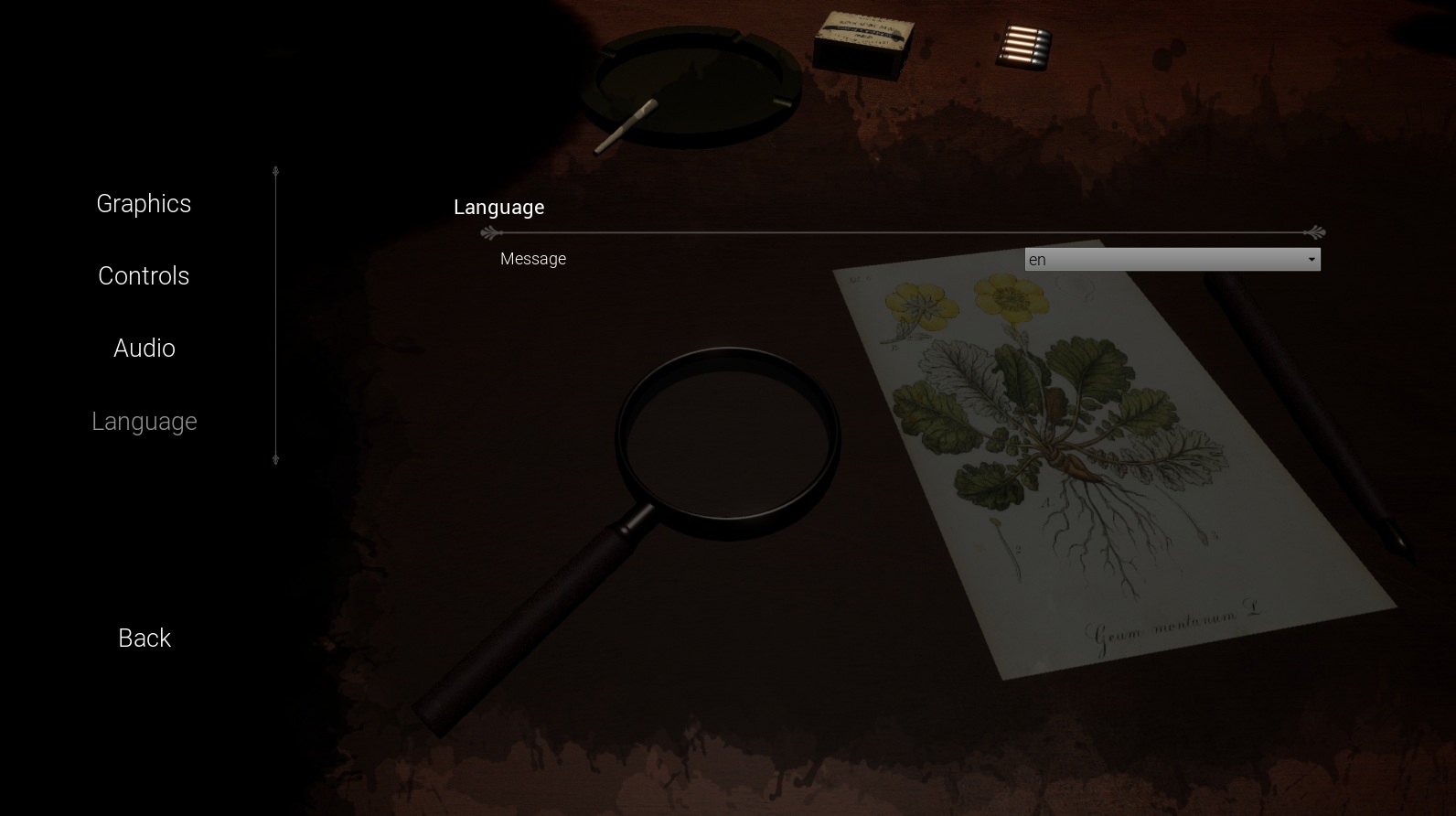 Most of these options can be also accessed via the in-game pause menu.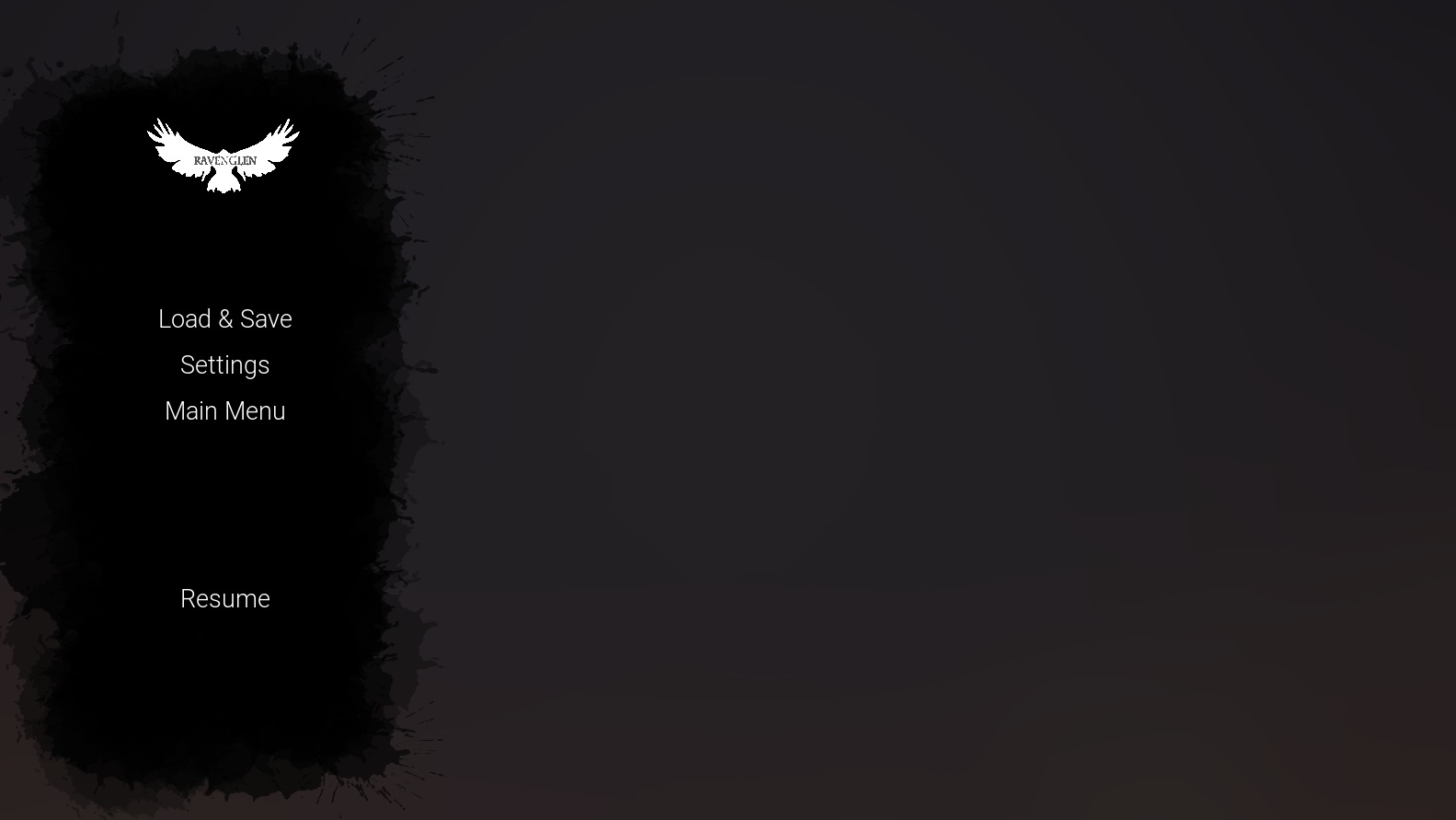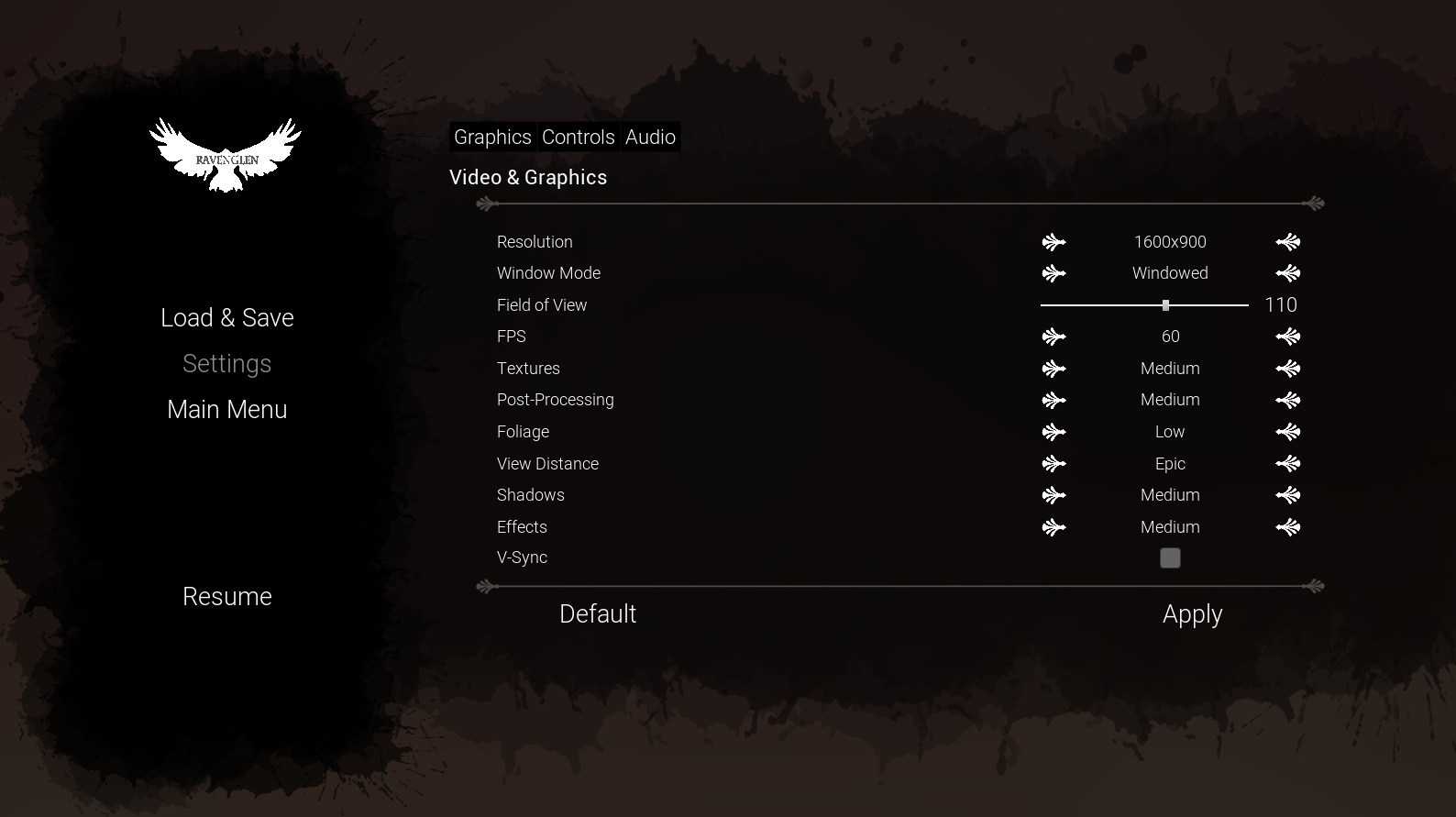 The in-game menu also supports saving players progress.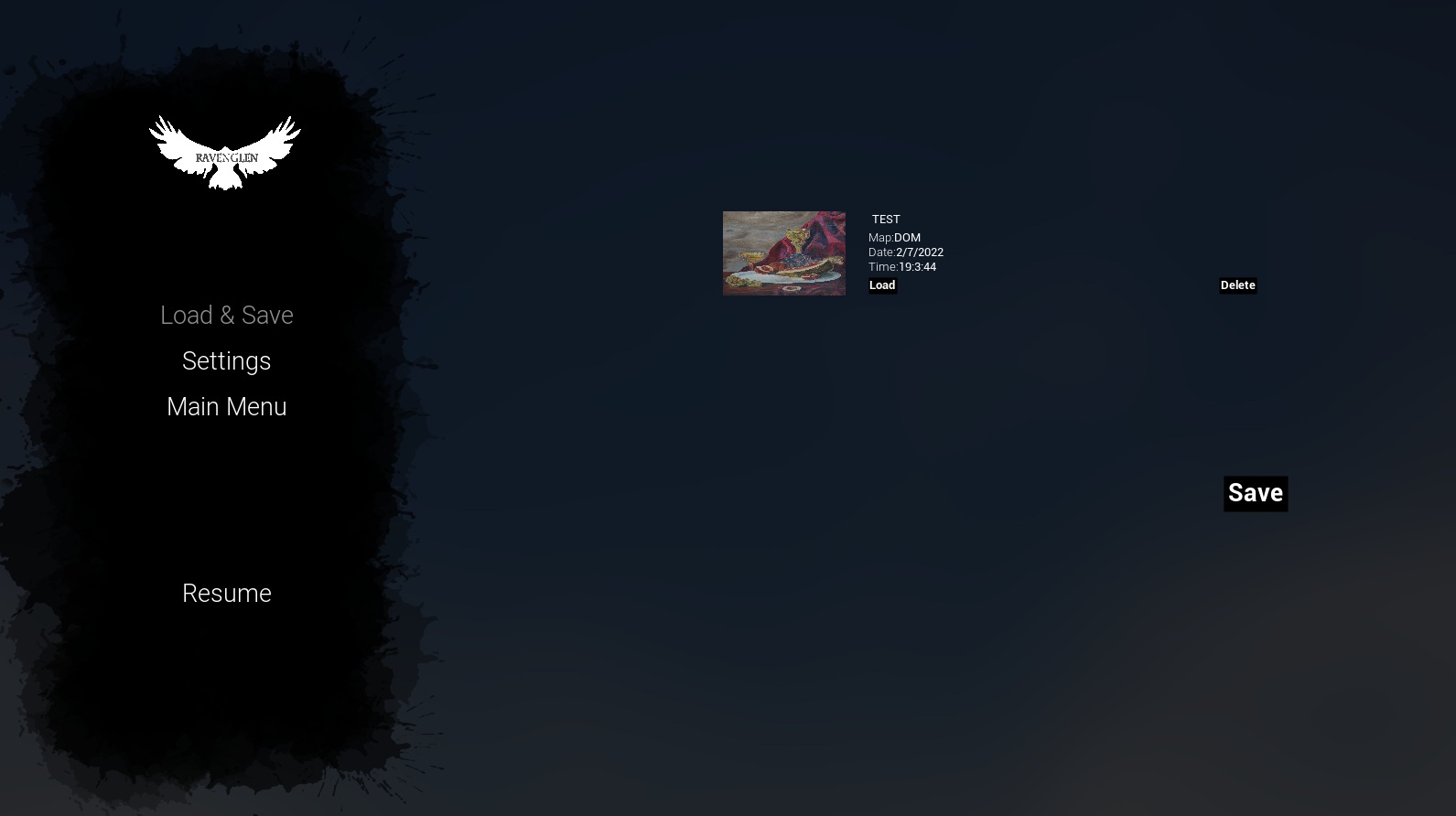 HUD
During the recreation of the main menu we also modified the main character. In the previous video it was just a plain flying capsule. Because we want the player to see the rest of the body of the main character in the finished game (which is something not a lot of games do) we changed it a bit. The UE4 mannequin serves now as a temporal placeholder for the body. Working HUD was also added.
Left panel: shows players stamina (white) and well being (the brain, we will explain it later).
Middle (pop-up) panel: shows list of important collected items/tools - lamp etc.
Right panel: shows currently equipped item.


For the full demonstration of above mentioned features check out this video:
For more info you can check out and follow our pages on:
Facebook : Facebook.com
Twitter : Twitter.com

That's all for now, but stay tuned for future updates !
The Jumping Plasticine Team