Hello there everyone,
Our last post here on IndieDB was our ice-breaker post, bringing some life back to our IndieDB page, but it was more of an overview of a 'thank you' and 'we've updated the game' post. So this week we're going for something a little more personal, looking back at the game's launch and what we've experienced since then.
But first, we'd like to share an all-new 2D animated trailer for Raji: An Ancient Epic. If you've played the game you should find the 2D shadow puppet style!
With this, we nicely round up our trailers as now have our gameplay trailer, a cinematic 3D trailer, and now a 2D animated trailer, quite the collection!
---
Launch Reaction
In the last article that we posted here, we made a special effort to say thank you to the community, afterall, they really have been the driving force of our game. So for this week's community focus, we want to talk about how we viewed the reaction, what went on, and our thoughts on some of the major feedback that we received.
First things first, the community's reaction to Raji was excellent.
What really stood out to us was that the game had a truly international appeal, something that really hit home when we tuned in to all of the live streams after our launch and saw streams from pretty much every continent.
That wide reach proved to be very beneficial to us not only for the game's popularity but the community also helped us pinpoint the major pain points of the game very quickly and so we were able to patch out the bugs with relative ease. Of course, we did test the game extensively before it launched, but as most of the devs here will know, nothing beats the watchful eyes of an actual community playing the game.
From the team's side, the co-founders of Nodding Heads Games were very active giving out interviews and we had some really cool recorded conversations that you can re-watch.
Stories from Development, Ethics, Struggles, Marketing & More
All Three Co-Founders - Shruti Ghosh, Avichal Singh, and Ian Maude
And finally, do check out this interview between CNBC and our own Shruti Ghosh (Co-Founder and amazing artist of Nodding Heads Game)
One thing that did catch us by surprise was a particular suggestion/feedback by the community to give them the option of having a level selection in the main menu. We're sure that many of you would think that that idea is logical (and you may be surprised that we were surprised), but you do have to consider that we've always considered the game to be just as much a story as a game, and so to jump into a specific level would break the overall flow - now of course - this is just our opinion and the community feedback has made it clear that this is the most requested of all features.
---
Awards and Nominations
Of course, we have to mention our nomination for the IndieDB Best of 2020. Thank you so much to everyone who voted for us and brought us into the next round.
We really do love these award contests as they are a great way to discover other games - something that we take advantage of every time, and looking at the competition this year, wow are they amazing - so best of luck to everyone in the running!
In other nomination news. Raji is one of the 10 nominees for best of the MIX! We recommend that you check out the nominees and cast your vote for your favorite game - whichever one it may be!
And the last one is, with all the nominations going around, we're happy to say that we've taken home the gold from the India Game Developers Conference 2020 - Indie Game of the year.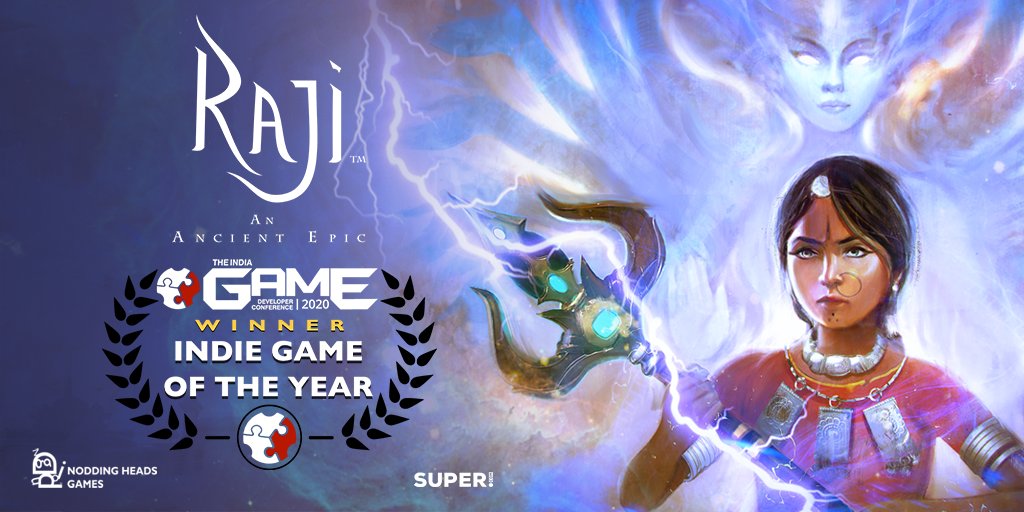 ---
And that's it for this article! Be sure to stay tuned to us here as we're preparing a special interview with the team to really get to know their thoughts first hand!