:: ABOUT RADIANCE :: LUX PRIMA ::
Radiance :: Lux Prima is a Beat 'em Up / Brawler genre video game that initially will be available for PC/Mac/Linux but will optionally be available for other platforms depending on community support / acceptance.
This is a really early concept prototype, normally we wouldn't release this early, but we opted to do since we are currently running our Indiegogo crowd funding campaign and we'll like to share our work in progress with you at this early stage so that you may contribute with your most valuable feedback and experience first hand the progress made on the game as we forge our first journey... We'll constantly be updating the prototype as the campaign progress and will notify here at IndieDB of all the changes / upgrades we submit so you can check it out!
This early concept is not multi-player but soon enough we'll introduce the ability to connect multiple gamepads in order to play offline Coop multiplayer!
:: ABOUT THIS PARTICULAR RELEASE ::
We acknowledge there's lots of colliders missing (unrestricted walk-in areas) so this being said, the intended way of playing it is side-scrolling (traditional Beat 'em Up like - but 2.5D dynamic camera view). It is not intended for the player to walk to the back of the stage - meaning that if you decide to explore the back-stage, you'll find nothing but a bunch of assets you might traverse or not or even get stuck (if you get stuck press 'Esc' key on the keyboard and choose 'main menu' so you can restart the prototype demo).
Objectives :
Walk trough the stage, get a very basic feel of the action type, while you knock down a few Assassin Goblins around and walk / run to the very end (far right side of the stage where you find a giant wood gate and there's and 'exit demo' sign). You can enter a few structures on the way and even rescue a villager on danger!
Structures :
There's only 3 structures you might enter so far on the prototype: The Beer House, The Inn and The Water Well.

* Beer House - 2nd structure from left to right with the giant beer barrel on its roof :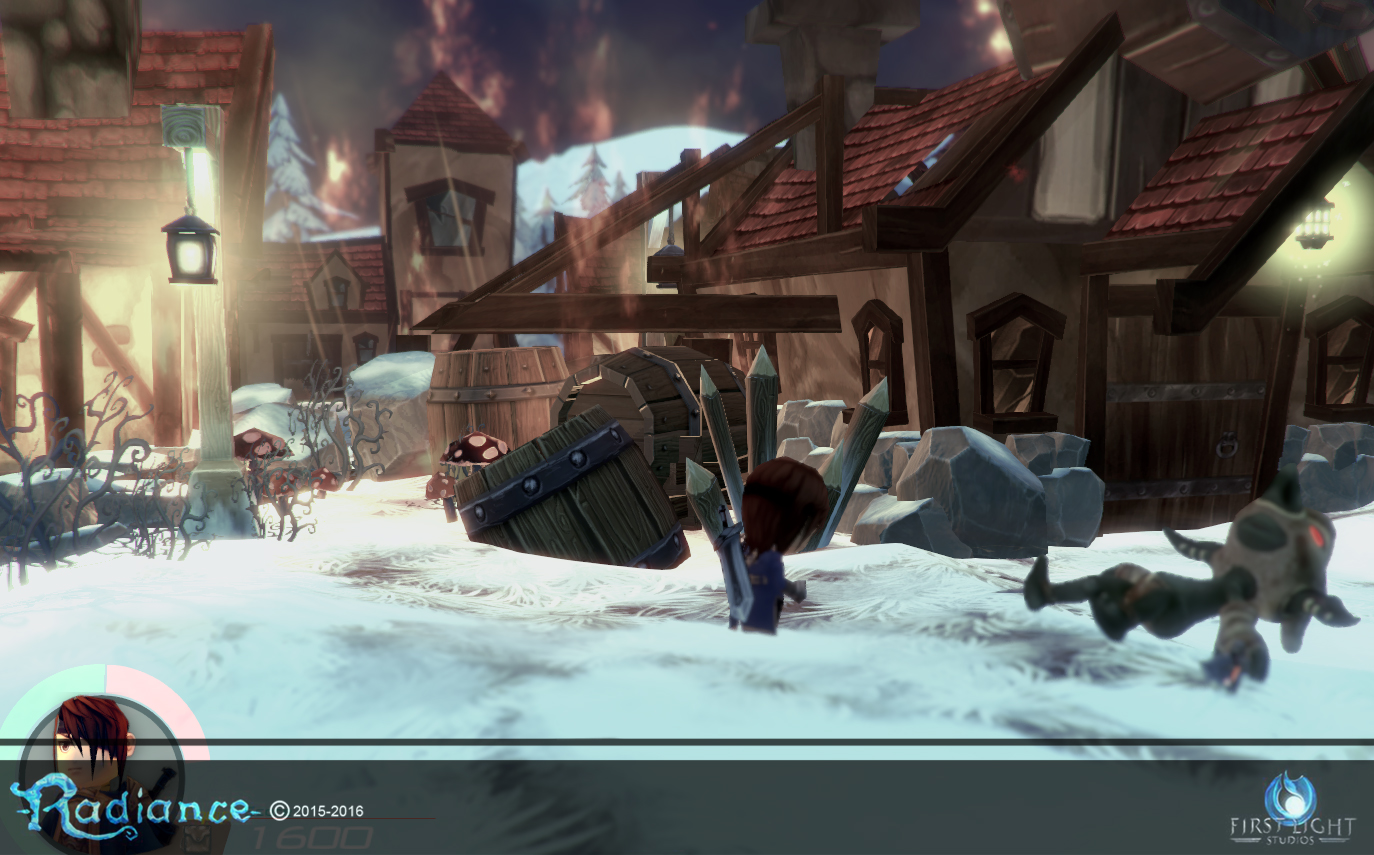 Event: you can rescue the fellow that's in danger there if you interact in the 'logical' way with the environment - this is the only event we have scripted on the early concept prototype and is only intended so that you can get a basic grasp of the type of adventure type events you can find trough out the final First Chapter stages!
* The Inn - you can enter it now, there's no event yet - it is planned
* The Water Well - you can enter it now, there's no event yet, just traverse it up to the far right most side and then climb (touch) the roots on there to 'climb' out - it leads to the prototype exit.
Items:
* Meat - for now if you touch it, you'll eat it, there's no inventory or dialogue option to refuse eating it yet.
* Healing Herb (to be added in the next prototype version)
Effects:
* Poison - the meat will also pose chance of it being poisoned - if you ingest it you'll have to wait a random poison effect time frame. You'll see the HUD display lit on green, confirming the poison effect.
Controls:
* Keyboard :
WASD - Directional Controls
Ctrl - Attack / Sword Slash / Confirm
Space - Jump
Esc - Menu


* Gamepad :
A - Attack / Sword Slash / Confirm
X - Jump
Analog Stick - Directional Controls
(Keyboard) Esc - Menu
:: Download Links ::
(Early Concept Prototype)
(In-Game Aegis Character Demo Prototype - Turn Table - PBR)