Usuarios brasileiros podem preferir ler o texto da campanha de doacao em portugues. Detalhes no site da campanha. Igg.me
Usually I would post only day 18 of this month, when I would had a couple of new assets to show; but since raising funding for a game is veeery important I'm publicizing the news article right now.
I had setup an indiegogo.com fund raising campaign for the project(linked image, just click):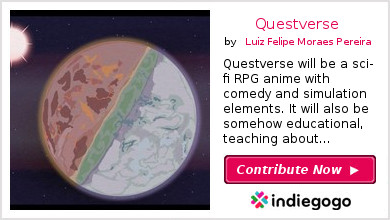 I'm aiming for 10,000$ for funding the game development(that take in account the 1 year I truly worked on it plus the other year I plan working on the base game), I may not achieve that amount, but the closer I manage to getting there with your help, the better.
I'm currently working on the final game campaign trailer:
There are more detailed explanations(funding applications and such) and prizes at the campaign page, make sure you visit it if you like this project!
That is all Space Adventurers, may the Questverse family keep growing strong together with the project.