It's been a week (well 2 weeks) of tremendous progress, all of which culminated in the first ever Newsletter to match that progress. I'm here to talk about what has been going on in the land of Quest For Humour.

Updates:
So as I said, It has been a great couple of weeks for updates, I have managed to get a good number of Quests done and I have sorted out some bugs straight out of the gate!
Quests:
It is officially the 3rd week of development for the game & I have managed to spring together around 15 quests out of the 50 quests needed for the client release of the game. Now I reckon that the progress has been good on this front but obviously it would be nice to get some major quest's done, as I mentioned in the newsletter (Which is available in the download section) I have only managed to get some side quests designed and coded. I have officially started working on the main quest line today (2nd of July 2012) which starts of in a prison. (No Oblivion rip, I sear!)

Other than doing the side quests and main quest's, The main thing I have realised while designing the game, is that making an RPG world is an immense task, at which every detail counts, such as NPC's who have extensive but interesting dialogs, Interesting worlds to explore, excessive but valuable lore to the world, all of those things count and matter in an RPG, even if my RPG happens to be on the comedy side, rather than the serious style of Skyrim or any of the Elder Scrolls.
To get around that hump of game design, and to avoid having a GDD the size of mount Everest, I had to come up with a clever way to tell a story in an effective way without overbearing the player with tons of "books" & "maps" that tell the story, but rather a more concise and meaningful way. So I figured out that the best way to tell the story was through the characters, and so far I think I'm hitting the nail on the head. Don't get me wrong, I'm not trying to redefine the RPG genre, there will still be all those little books and maps out there that tell the story in a more direct manner, But the player won't need to rely on reading tons of found materials just to get a sense of the history of the game, they will encounter many different story telling "objects", from the treasure chest's full of secretes to the town drunk that tells you everything for some wine, there are infinite ways to learn and experience Quest For Humour, the player just needs to find the one that suits them best.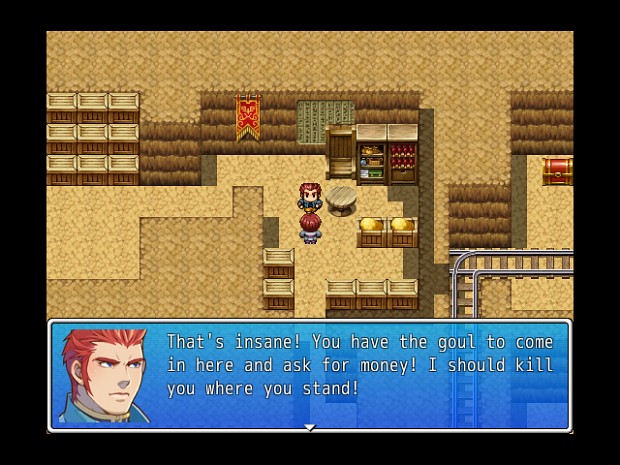 The interesting things that the people of Huckleberry have to say are endless, spelling mistakes and all!


Bugs:
Now that you know the whole scale of this project, you can understand that all those things combined can have a pretty unstable effect on certain aspects of gameplay. Now let's get one thing straight, the game runs really well, it's just I'm only one guy, so sometimes I may code in some wrong code, resulting in me screaming at the screen for hours, shouting "Why won't you pick up that bloody quest item Timothy!" and then I realise, slowly but surely, that I have managed to write in wrong conditions, or variables.
So after learning from my mistake of butter fingering my code, I realise that hooking up and linking all quests, including side quests, to some sort of moral system is something that may literally drive me insane, But hey, what's the point in making a game without putting in the effort, even if you are going grey in the process!
The game is officially bug free at the moment, which is good, seeing all the bugs I encountered are pretty much my doing so, and are more my flaws in the design rather than the engine having fun at poking my brains.

Closing comments:
All things said, everything is rocking pretty hard at the minute, I'm really convinced I'm on to something here, Maybe once I finally complete this game, I can be happy that I brought something into the game world that shall live on forever, for when I'm long gone, maybe some alien will turn on a windows 7 PC, whack in a password, and play my retro RPG 'Quest For Humour' and get that same feeling that most of us get when playing old school games. "Yeah totally radical man, this is so much better then all that flashy new stuff that's coming out!"
I'll leave you with one quote that I heard in a film last night. (Hollow man) "Genius is the ability to go from A to D without having to go through B and C." It's just it feels like with this game, I may need to go through the whole alphabet to reach a standard that I'm happy with!
Thanks
Killah K2