The Experiment continues

Quarries of Scred was originally to be a game created in just a fortnight. After this time period, it was to be 'release it on Desura, Greenlight, or something, or... trash it'. I puzzled over this while I attended a wedding on Sunday (which was, of course, the deadline for the fortnight). Should I keep powering away with Scred, knowing full well the dangers of Scope Creep (was: re: Arnthak in all its glory) - or should I simply say 'this is the line' and move onto the next game?
Short answer: Both. I'll continue to work on Scred, adding some more things and tidying up the existing stuff, but I'll also start planning out the next game (disappointment time: It's not Xenoporn Tycoon, I have another arcade-style game planned first).
Roadmap
Here's a glance at the current Roadmap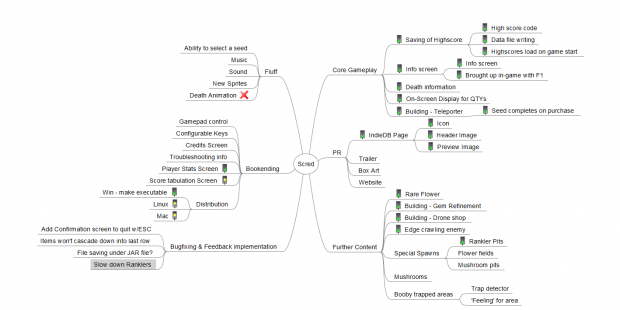 This leaves a bit of expanded scope, but nothing too horrendous - mostly it's about seeing gaps that others are showing (thanks to @TRSCP for his playthrough videos, which I'll link below). One thing that needs to be helped along, is the sense of a consistent gaming experience.
Testing
There's a current build available for Quarries:
Feel free to pass me feedback via comments here (preferably on the download page for the build), or via twitter (@darkestkale).
What's New?
Plenty of things have changed since the last Rolling down the Roadmap. Primarily, a lot of feedback was provided on reddit's r/gamedev, and via twitter. There were also 2 different LP videos produced, which showed some interesting things. Let's have a look at some changes: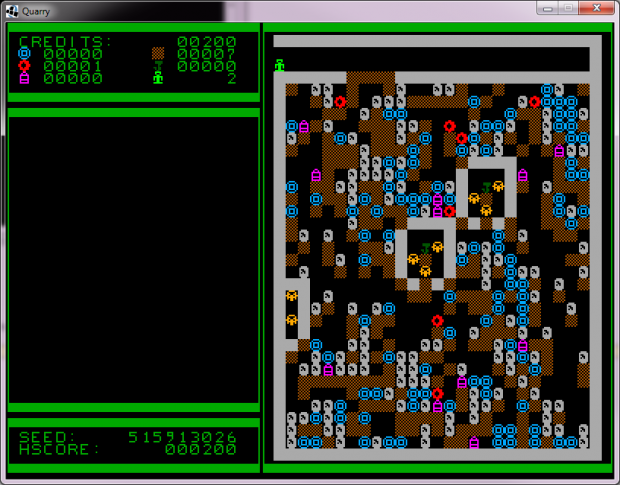 Addition of Ranklers & their nests, as well as Songlasia, a new pickup item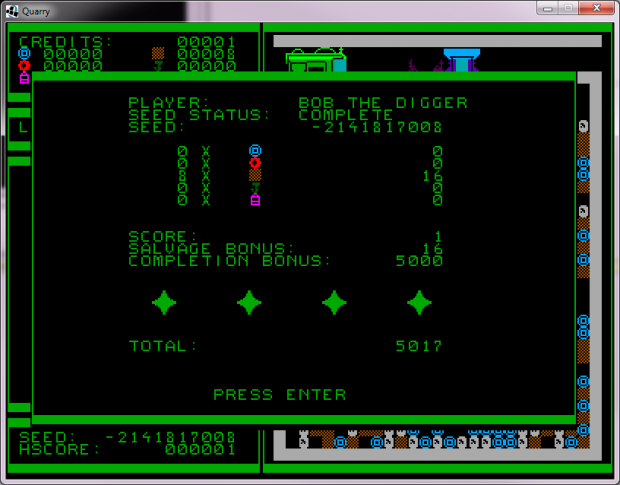 New Score tabulation screen - if the player has completed a seed (via the teleporter), they are shown the four stars at the bottom.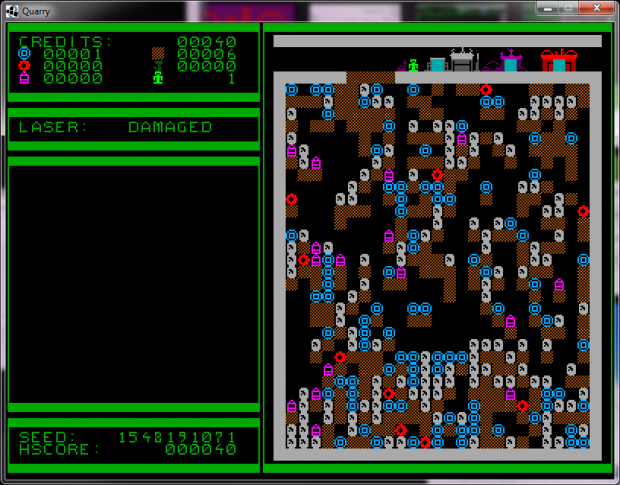 A further change to the game's UI is the addition of the laser box on the left panel. It states 'damaged' if the laser has not been purchased, though shows a number of explosions indicating the distance of the laser blast when it has been acquired.
That's what's been happening the last few days - Ranklers, better UI, new screens, and a lot of other smaller additions (buildings, etc). Further, the overall project has a better feel, since it is now delivered as a .exe file, which I'm sure will make it work out better for distribution (yes! There are people who don't know what a .bat file is!)
To the future
So, the future? Further incorporate the wonderful magic that Chris Gray of Lugdunon has wrought - Chris has graciously provided me with some magic scripting that may enable a distribution for Mac & Linux as well!), work on a few of the assets and consider whether to add CGA & other 'graphics modes' as an option that can be selected. Otherwise, it's more variety additions - I'd like to have a few special map areas trigger due to seeds, and of course, maybe a lower section with more difficult ore would be good. (Oh gods the Scope Creep that just happened in that sentence...)
I'd like to put it up on Desura or similar pretty soon, which will be a big step for me. It's pretty anxiety inducing, but I think it's important to say 'this could be something that someone will pay for'.
Youtube
We have two lets play videos so far:
Go give them a glance!
For those on twitter, feel free to post a picture of the score screen when you play the Daily seed - I'm trying to start a bit of competition between myself, @trscp and others!