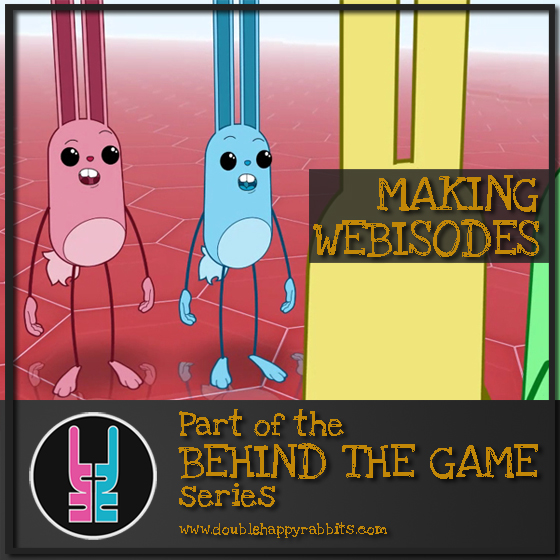 In exploring the Double Happy game world, we have produced the first few of a planned series of webisodes to share. They're short scenarios 'in the life of' our rabbits heroes Pink and Blue, who normally find themselves in a humorous situation for viewers to enjoy. Part to help build an audience, and part just because we can, here's an insight in to what our animators have been up to lately.
We started by producing skits; these were collections of 'idle' type animations which were originally created for the actual game. (before we moved to a 3D Unity pipeline, more on that another time!) They could almost be considered 'proof of concept' content which we then wrapped up with a custom animation where the rabbits interacted with each other. These skits were played on big screens at AVCon 2012 – a convention in our town Adelaide, South Australia where we were presenting the concept for the game. We didn't have any kind of playable demo at all, but the interest these skits (which played frequently on those screens for 2 days) created in our game was really encouraging.
Here's one of the skits – Balloons and Tails – but you can see more of them on our YouTube channel!
The next iteration of these animations was to take them to the next level – take Pink and Blue out of their stationary position on a background and let them roam free in different environments. Thus, the webisode was born! The first of which is Raining Drool – a story about love and loss, joy and pain, and digestion issues in colossal annelids. You can see it here on IndieDB or on YouTube.
Today we released our second webisode – Quantumly Entangled.
The Double Happy Rabbits Pink and Blue are going about their day to day when they happen upon a rare phenomenon. Quantum Entanglement. Whatever that means.
Let us know what you think! Are you doing anything similar? Have you noticed using extra content (wallpapers, mini stories/webisodes etc) has increased the number of eyeballs on your game? Love to hear your story!
Cheers!
The DH Team
www.doublehappyrabbits.com
Double Happy Facebook
Double Happy Twitter