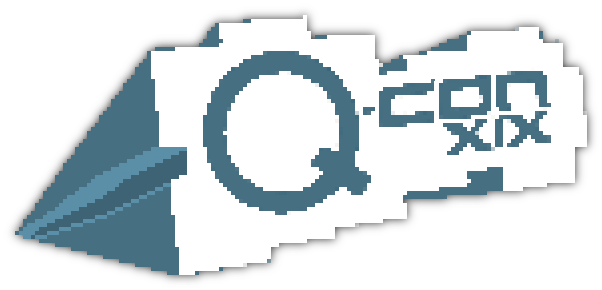 This week I was presenting Incursion at a local convention called Q-Con, as part of a recent initiative to give local independent game developers a bit more publicity.
The convention itself was really cool. This was only my second year attending, so it was awesome to be a guest this time around, especially getting few drinks with the other indie devs and panelists afterwards, among whom were Zombiesaurus and Batcat Games, two very cool local developers whose games you definitely should check out.
Presenting the game face to face with random convention-goers was totally stressful, and reminded me of how I felt when we first made the beta available for download: As a developer you have no idea how people will react at all. Will they like it? Will they hate it? Is it long enough? Will they find it funny?
Apart from a couple of "Is that it?" comments (obviously I didn't say demo enough times ¬_¬) people's feedback was pretty damn good. Some other developers there also expressed mixed feelings of admiration and contempt at my youthfulness (I was the youngest developer there by some margin) which was also cool and validating. I'd like to think I've made a couple of friends too, which is amazing for me, because although correspondence with other developers via twitter and elsewhere is totally great, nothing really beats sitting down with friendly like-minded people and discussing your crazy future game ideas over a few drinks.
I also did a short presentation/talk on game development which, as my first time doing something like that, was crazy stressful. My nerves made me panic and talk a little too fast, and when someone asked me to show how to do something specific in Ren'Py I totally blanked, and got it wrong four consecutive times though. People said afterwards that it was obvious I knew what I was doing, but was having a tough time with my nerves, and I guess that's okay, I'd prefer to look prepared and nervous that clueless but ice-cool when I'm trying to give people advice on game development.
There will shortly be a short patch available with tweaks and changes based on player feedback over the course of the event, and hopefully these will be the last changes to the basic level formula as we move towards stable versions of the other game levels.
The biggest changes are around user-defined strings (that's text entry fields to the average Joe), which have been changed to include default values. This was done after a number of players expressed confusion over their real purpose in the game, and said that they spent too much time trying to figure out cool names for things when they just wanted to move on. Originally these fields are to allow players to personalise the experience, which will have additional implications as I experiment with subtle social network integration (a la Sword & Sworcery), but the people were absolutely right; a lot of players totally don't care what the mountain is called, and we should really give them the option to just move on without having to figure out a name that they won't regret later on.
On the flipside, a couple of people were annoyed that they couldn't give things longer names, so to allow for this all in-game text fields have been changed to a maximum of 30 characters. It's a small change, especially since most players won't even notice, but Englebert Theodore Brown III can now play Incursion without fear of having to shorten his exceedingly classy name.
The final change is that scene transitions have been shortened, since many players were hitting keys thinking that the game was waiting on them doing so, and we want to make it clear that that isn't the case.
Also on an unrelated note, my game Root Access that was created in 48 hours for the Pulse Pie game jam is receiving a couple of updates this summer, including a massive content patch, a dramatic visual overhaul, and (wait for it) a full release of its source-code! We're also planning to try and get it on Desura under the Cube Noir label, so if you liked the game in its simple state, or if a hardcore hacking sim sounds like your kind of thing: Watch this space.
tl;dr - see bold text