In the evening of the 4th of September 2013, we have organized a Plee the Bear themed party at Café Le Briord, Nantes, France. At first sight, we were quite hesitant to put the game in the hands of strangers, who are clearly not game developers and maybe even not players. Indeed, since the game is in a complete reworking state (there is a fundraising about it by the way), it has some glitches which I did not know how to handle.
Nevertheless, having a working mini-game and an almost working first level, we decided to restrict the evening to these parts of the game and see what would happen. We came to the café with my laptop and two pads, plugged the latter and the beamer in the former, and launched the game. Wow! That's our game on the giant screen!
There was quite a lot of customers at the café. Some of them came for the game, in response to the various announcements published on the web and in the press, traveling from cities like Pornic (60 km. from Nantes) or Paris (385 km. from Nantes).
Then there was the customers who came to have a drink and who joyfully discovered the game, taking the pads and playing with their friends in the mini-games or the cooperative mode, or simply testing the main quest in solo.
Here are some pictures of people having fun with our game: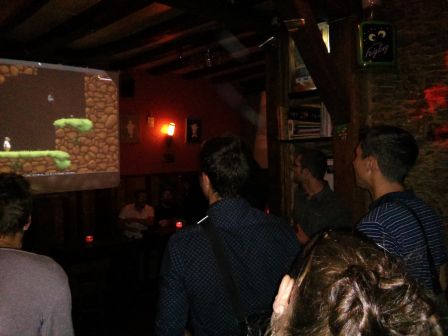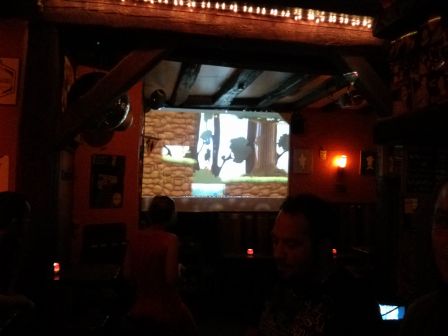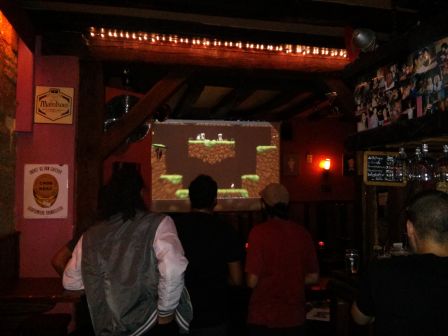 Finally, the game was sufficiently stable for the customers to play. There was some bugs and some crashes, but the people understood and continued playing the game while giving us feedback. It is really interesting to see the people smiling and laughing in front of you as they play your game. It gives you a feedback that you would not have from friends and family, nor from online testers.
Also, as the developers of the game, we have lost the feel of the main character's behavior; we played it so many times that everything feels smooth and responsive. Having strangers playing the game in front of us gave us some hindsight about the parts that must be improved. For example, most of them told us that there was too much latency in the actions.
It was a very good experiment and we will do it again Wednesday 11th of September, this time in a more structured way: we organize a championship on the mini-games! If you are in Nantes in the evening, you're welcome at café le Briord!