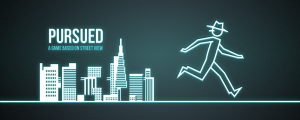 Pursued has been out for just over two weeks now and it has been a great experience! We started the game as a small project to help alleviate some mid-development fatigue and to submit to the Mozilla GameOn Competition, under the web-only category.
It took us roughly a week of development time to put the whole idea together and to make it work the best it could. Most of this time came from lunch hours or toward the end of the day to change gears for a bit. As we were building it and showing it to people, we noticed early on that people got hooked trying to figure out where they were, so we rolled with the idea.
After more experimenting we finally decided that community levels are a must! People love to share and challenge each other when they create the levels themselves, and Pursued is a VERY quick level creating experience for everyone.
The combination of a unique way of utilizing Google Maps and the ability to share your own created levels (200+ currently) is something that we believe added to the games early success at this moment. We are still playing with the game to make even more accessible than it is at the moment. With that said, we wanted to share with the community to never underestimate your players urge to create, the more avenues you allow for them to create and share, the better off your game might be!
We've seen over 200,000 plays so far in Pursued's 2 week run, and we have the community to thank for that! Many thanks to all of those who have played and created levels so far!
-Nemesys Games