So today I release a new teaser video. I don't update often, as I usually wait until I have something substantial. Several months ago I pulled the couple teaser videos I had because I was using some borrowed graphics. Today I bring you a new video showing real live, in game footage of the current alpha build. In this sample there's around 45 ships comprised of human and AI. A lot is happening behind the scenes, and the current system is currently supporting 4 teams of 8 players each.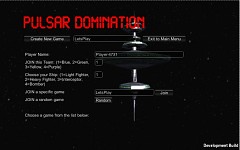 I hope to support closer to 15 players per team by the time it's released. In this version each team spawns from a different quadrant. We have Blue, Green, Yellow and Purple teams. We also have a 5th quadrant with heavy purple fog and red tinted pirate ships (which are always NPC-AI). I'm really happy with the progress, as at this point most of the core gameplay functionality is done, and it's more a focus on polish. I still need to add the in-game purchasing/upgrade system which will be available any time you spawn to re-outfit/customize your ship. The dashboard graphics are still static, but will be fully animated and functioning in the final release.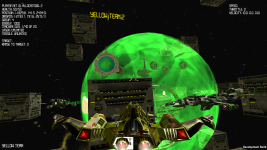 Here's a view of the Yellow Interceptor in 3rd person after a respawn
A few weeks ago I had a booth at the first annual Philly Game Forge, in Philadelphia, PA. I got to show Pulsar live to over 100 people, and I got great feedback from everyone. I'm taking many of the suggestions and working to integrate them into the beta build.
I hope to release a controlled alpha networking test soon, so if you're interested please drop me a note.
Thanks and enjoy! (I hope the embedded video works, but if not, I'm including a link too.) Youtube.com