So as i stated in summary, we fixed some bugs what was reported by our players. Some of them was really major bugs, what can ruin your experience from game. For example event taking all items from your inventory bug. I will explain this a bit more: When you got quest from event, where you must bring some things, f.e. logs, and if that event NPC asked you to bring f.e. 4, it just taken ALL logs from your inventory. So we finnaly found what was causing this bug and we fixed it.
So here is detailed changelog for this patch:
Legend: + = added; - = removed; * = bugfix; # = misc ----- v0.0.7 --> v0.08+ Now message is displayed when player logs out+ Stackable items+ Real defence for Equipment (PDef, MDef, RDef)* Taking more than 1 item from Event* Drawing of Map Lights on bigger maps* Major /afk system error* Drawing of shadows in day/night* Event Editor commands after ChangeClass# Edited Item Editor for equipment
Here is also some screenshots explaining features what we recently added:
This is screenie of finished HUD. It is displaying:
Player sprite
Player informations (level, hitpoints, spirit and experience)
Current map
Game time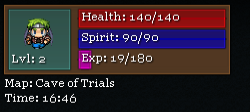 And this little screenie is displaying message in chatbox when player logs out. Maybe we will include playing sound too when player logs in or out. Btw i am chatting there with our dev, what made that beautifull first map what you can see in Images section (it is brightest one :D ).