The Void pulsed with life. The meters pegged.
Something came through. Something Hungry.
Very hungry.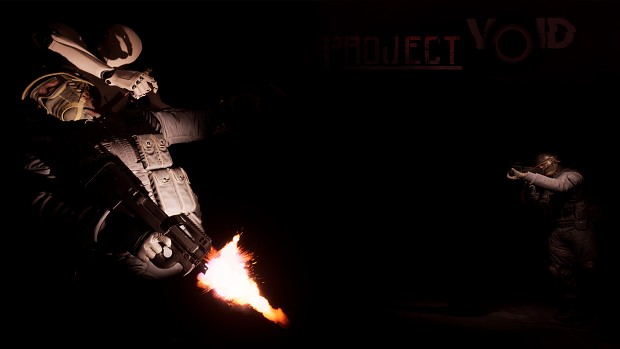 Welcome to Project Void
Project Void is a Multiplayer Monster hunt. One player plays as an invisible monster from another dimension, while the others play as Containment Team members armed with guns trying to hunt it down. Only problem is, it's them who are being hunted.
Project Void pits 1 invisible player with a sharp set of claws, the ability to see through walls, cling to walls, and can feed on its victims to gain health against up to 8 players armed with guns. It is up to the other players to eliminate this invisible monster, but it's much harder than it sounds. When your enemy can be anywhere, you never know where the next attack is coming from, and when you're more likely to shoot your friend in a panic than you are to hit a moving invisible target, your chances grow slimmer each time.
Playing as a Containment Member is both exciting, and terrifying. Watching as your team gets shredded before your eyes, straining yourself to see the subtle shimmer of the monster run towards you, your mind begins to race as every gust of wind, puff of steam, or flash of lightning plays with your mind.
No feeling is worse than being the last man on your squad, hearing the monster's cackles echoing through the halls as you're gripping your weapon tight in hopes of pulling off a lucky shot to save your life.
As Subject 626 it is your goal to make the Containment Team's death as drawn out as possible. Lay in wait, pick off stragglers, feast upon the weak. Make them squirm.
Playing as an invisible monster isn't easy, but it is fun. Hiding in plain sight, pouncing down form the ceilings, tricking players into the perfect trap are all apart of the fun. While it only takes a few well place shots to take you down, the advantage is all yours as you continue to toy with your prey.
With the ability to pounce long distances, cling to walls and ceilings, and see through walls you'll be able to wait patiently, or actively hunt down an entire squad without fear.
As it sits Project Void is fully playable today! All you have to do is download the project either through the Itch.io app or download the standalone version either from Moddb or Itch.io, have Steam running in the background, and Launch the game!
There are two current maps available, the first official Map is Skyline, a new Skyscraper under construction full of openings, edges, and carnage! This level is only half the size of the final version, but it's a great start in order to get a feel for the style and flow of the game.
As well as a playground map known as Sanctuary with high ceilings and pillars to push the limits of Subject 626's abilities. While this map isn't an official map, it is a good way to mess around and play with the mechanics in another environment.
Big shout out to one of our community members Totally Not Stalin for Streaming our first Play With the Devs session hosted on Halloween Night to stress test the Project Void v0.37 Release. He played for a solid 4 hours with most of us, as well as other community members!
Thanks again!
Want to keep up with the latest updates, provide feedback, schedule play times with others, or just hang out? Join the Discord channel! Here you'll be able to do all those things, and more!
The Discord channel also features up to date Read Me's, Change Logs, and Instructions!
Download the Alpha Today!
We've been hard at work! And the game is already in a playable state. Although this is a multiplayer only game, so you'll want to be sure you jump on the Discord chat to find others to play with!
Play With the Developers!
Join the Discord Channel, and locate the #play-with-the-devs channel to actively join us and play with us!