Everyone who has been following EXM Games knows that our team isn't exactly the most social one. But anyway, it is update time for Slaughter Maze, Carnage frontier and we will be announcing Carnage Frontier: Desperation, a free game game for Android devices that will take place inside the Carnage Frontier Universe. Look forward to play the game.
Carnage Frontier: Desperation's indie db site is currently being built, there we will showcase pictures of the art used for the game development as we yet still can't find an efficient way to record the our programmer's android device screen. However we will still post a video showcasing alpha footage but excuse the bad quality of the recording.
We are still working on the story of our game After War Blast, so there isn't much that we can showcase to our watchers so we uploaded a picture showcasing Blast protecting Karyl.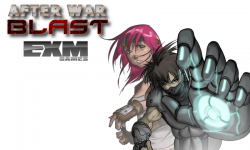 That being said enjoy the updates.