Enemy Groups and Fragments of Darkness
The new version of Project One features something from a very early release of the game, which was later removed - Enemy Groups.
After beating the last boss of an area, you unlock the Classic Run mission. There you fight against various groups of enemies with different attacks and behaviors. In between are the bosses and mission events, which will challenge you throughout the entire run.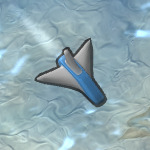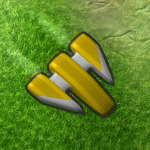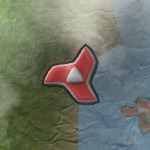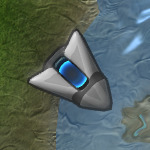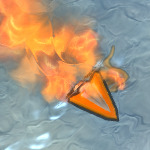 In this game type, bosses don't drop power items, (currently) every 6th destroyed enemy does. You retain your power level until the end of the mission up to a maximum of 300%. At this point the whole fighting gets really fast and intense. To make it a bit more fair, bosses drop repair items, which regenerate some of your armor.
Rewards for those missions are not yet implemented, but the first Classic Run and first three bosses are unlocked from the beginning in the current version to test them. (equipment from those bosses is not unlocked)
Another big change is the implementation of the Fragments of Darkness (or dark bullets).
Some of the standard-bullets the enemies and bosses shoot are dark now. You can collect them and instead of getting damage you increase your score multiplier. When reaching x10.0 you enter darkmode and get increased firerate and reduced collision range.
Every damaging hit you take halves your multiplier, and dropping below x5.0 removes the darkness again. You benefit more from the fragments when outside of darkmode and doing damage also increases your multiplier.
---
v0.8.6 (2013-04-29)
General

Implemented Classic Run with enemy groups between bosses
Implemented Boss 02-03 Leviathan
Added additional names to all bosses

Gameplay

Implemented dark bullets (fragments), which spawn instead of some normal bullets and can be collected, increase modifier and activate darkmode
Implemented timelimit for boss fights (mainly as bugfix)
Items move only vertically now
Equipment

Implemented highlighting of new equipment
Weapons

First upgrade for the Pulse Cannon available

Ships

Franka the polar bear available as player ship
Implemented color-reset

Interface

Current weapon-power visible
Menu

Improved the ingame screens (intro, fail, success, score) to be more arcade-like
Last score and time visible on the fail screen
Better highscore display on the mission menu
Implemented cursor graphics and gamepad/joystick control
Graphics

Changed and improved some special effects
Increased background speed
Inverted shading is only applied now when the boss is in darkmode
Improved the text sharpness

Bugfixes

Fixed wrong crash decals on rotating background
Fixed wrong rendering of the world map on some video cards
Fixed strange mouse movements on Linux
Fixed wrong library access on Linux
---
Thank you
- Martin