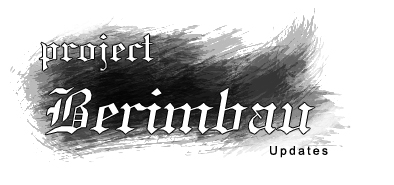 The game: It's a multiplayer duel game based on sword fighting in third person view. I hate pitching stuff with "a game that's like...." but it helps certainly helps paint a picture. Combat plays slightly similar to Jedi Knight II: Jedi Outcast, with the flair and speed of Kingdom Hearts, and a subtle stylistic mix of Advent Children and Samurai Champloo. I know I know... I've just listed a bunch of stuff we love. That's really it, to turn the above into a tight game with a short feedback loop.
The gameplay itself consists of chaining combos and reacting to attacks. This melee combat would not be like CS "knife-fights", but rather strategic and calculated. The idea is to make a game that rewards steady flow of combat. Although the "random hack and slash" newb strategy might be viable, experienced players would easily crush this kind of play style.
We want to push out a "version one" asap and keep adding stuff to it as we release. We're definitely realistic on the scale of the mod. We're coding the thing up in HL2MP Source Engine with the Orange Box stuff. The project has been floating around for a while but it's really coming
alive now.
This project is purely for fun and hobby, not for monies. We're all pitching in on our own free time
We have some finished artwork, models, and videos of the working version of the sword combat code in our game spec overview.

Call for Reinforcements:
As of today the project is officially open to additional teammates. While the two of us have poured several months into this project, we'd gladly welcome more motivated individuals to the team to help get it off the ground.


(flux) What we need is someone who is experienced in hacking/modding the Source Engine, since the thing is a beast. I'm capable of doing this myself with moderate success, but I'm also tasked with modeling and animation, game mechanics, and a host of other responsibilities. We could also use the help of anyone who can animate humans, preferably in Maya. Understanding the Valve export process would be helpful. The following positions are open on the team:
Mappers/Concept Artists:
Any artists that want to try their hand at this project, please contact us immediately. While we have a solid set of test maps for the Alpha and Beta trials, we plan on expanding the world scale quite quickly and need a good team behind that. Again, while me and Flux have done quite a bit, there is still parts of the world that need fleshing out.
Source Programmers:
The duties of this position will be to work on cracking and taming the beast that is the Source code. Game modifications will be relatively simple (setting up a queuing system, duel arrangement, and actual flow of gameplay), with modifications to effects as well (generating weapon trails and impact effects).
(next weeks update: Further Progress and a new map...)