First off my apologies for not updating in a few weeks, things have been busy and time has flown here getting Isomer ever closer to alpha. It has always been my intention to get the core features of Isomer complete before hitting alpha, the last thing I wanted was to ship an incomplete fraction of the game even at such an early stage. Extra content and polish can come later during alpha, but the game has to be fundamentally ready to play.
Unfortunately it turns out that getting the 'core features' done represented about 80% of the total work on Isomer which is way greater than I predicted at the start and that has slowed things down a bit. The eagle eyed amongst you will have noted we previously had a release date listed as being the 1st of March. Oops! This was a rough conservative estimate made back in November and turned out to be almost correct.. but not quite.
Don't be alarmed by the TBD that now resides in our release date field now however, a lot of work has gone in to Isomer in the last few months including back-end stuff including our website (take a look - everything is new and shiny Ionisingsoftware.co.uk) and discussions with the Desura team and others to support the alpha launch. We are now weeks rather than months away from getting an alpha build released and I expect things to ramp up progressively now.
After a little bit of feature creep on the initial 'core feature set' for Isomer (and a lot of nervous fiddling and experimenting) we've finally arrived at an exciting point. There is now a concise list of things that are left to do and amazingly it all fits on a single page of paper! It feels really good after so much work to have a small and concise list of tweaks, enhancements and bugs still to tackle. Investing many months on a project working almost solo means the sense of excitement (and a fair amount of relief to be approaching this stage) is magnified.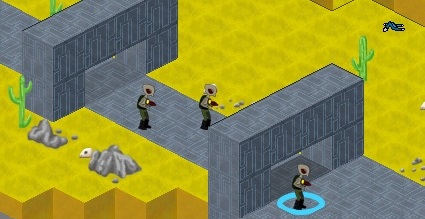 What all this means is that Isomer is in the final sprint until the first alpha version becomes available. What is going to be in Isomer from the first alpha build you ask?
We have a number of different types of random procedurally generated worlds that are different every time you start a new game.
These worlds are large - teeming with hostile forces, loot and resources.
You command a group of units set down in a dropship to establish a mining colony. Build structures, explore the world and defend your facility from the hostile forces on the world.
Units gain experience and can be mutated into specialist unit types with complimenting abilities.
What can you expect in the final version of the game? You will be able to change the weapons and equipment your units carry, see a greater variety of friendly, hostile (and possibly neutral) units. There will be even more variety in be worlds, loot types and things to build (like transporter pads, spawning structures, portable power cores etc) and encounter. This is by no means a final list, a huge amount of work has gone into the alpha version to make the world come alive, feel responsive and challenging but it is only the start of where Isomer can go. Ideally I'd love to continue adding more and more variation and content as we progress from alpha to the official release.
Aside from the features already planned, any new ideas that arise either during development or from players like you stand an excellent chance of making it into the final build. So bear with me while I get the last bits sorted, working on Isomer has been really exciting and I can't wait to get you our first build.