Happy new year, IndieDB! I've been hard at work on "The Testament of the White Cypress", and it's time to talk about what's new---and perhaps, to tell a tiny little story along the way, about Geoffrey and Lucius on a quest.
The biggest new feature in Cypress---and the highlight of our video---is the new drag-and-drop inventory management, using Ultima-style floating interface elements styled as scrolls.
Here's the video. Press the HD button for full quality. (Please note, there is a pause at the beginning. Scrolling jitter in the video is not present in the actual game.)
The scrolls float above the scene and can be quickly moved and/or dismissed by the player. Items can be dropped directly onto containers, or into and out of the scrolls representing the contents.
Notice also how the outlines are much thicker on the scrolls. This makes them look closer to the player, and helps the scrolls from looking too much like part of the scene itself.
Instead of an explicit "close" button, right-clicking anywhere on a scroll closes it.
In other news, I've reviewed and revised the design document in order to focus the gameplay more tightly.
Sprite rendering of enemies has also been improved; there had been some issues with distortion of the image before, but this has now been fixed.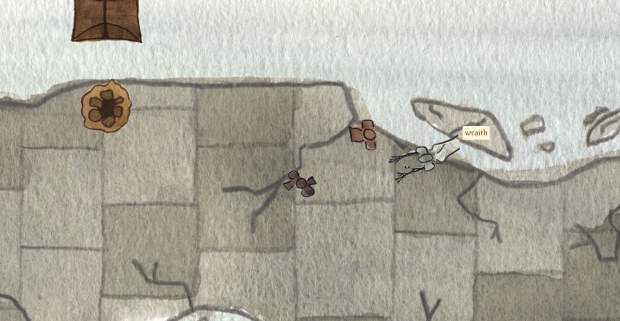 I hope you've enjoyed my little status update, and I wish you a Happy New Year! So, what's next? I've got to paint more enemies, such as the Skeleton Archer and the Hag of the Mist. I'll keep you posted on developments here on IndieDB. Thanks for watching!