Hello Party of Sin Followers!
In the past few weeks we've been gearing up for the launch of our Kickstarter Beta. Thanks to the awesome power of JIRA + Greenhopper. Things have been moving at a very smooth pace. Since we've installed the system, everything has been more productive and more organized, so I'm quite thrilled.
Since our last update, we've been hard at work on three key features: Polishing the gameplay in response to tester feedback, working on our meta-game with the adventure and the shop and building the GUI for our meta-game. I have updates on all three!
First, in the gameplay front, most of our changes have been centered around Sloth. While testing we noticed a lot of people just didn't understand that you could only slow one thing at a time, with no time limit. A few testers were spamming sloth bolts and wondering why the timer ended so quickly. We also had a major issue with players not being able to un-slow something except by throwing a bolt somewhere else. Lastly, slowing enemies wasn't particularly effective in combat, since you could only hit one.
We put on our thinking caps and ended up with a pretty elegant solution. First, we added an area of effect to the bolt, so it can slow down multiple enemies at once (this doesn't apply for environmental props though, to keep our puzzles interesting). That helped quite a bit in combat. To fix the other problems, we changed Sloth to be a two-stage attack. Firing the first time will launch the bolt from your teddy and slow something down. The second time you trigger the attack, Sloth will pull back the energy into her Teddy and be ready for another shot. This helps to explain why you can only slow a few things at once, and it adds a built in cancel mechanism for Sloth! Here are some shots of Sloth in action.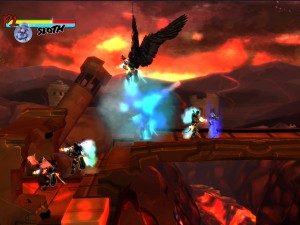 Sloth shooting a bolt and slowing multiple enemies in the process.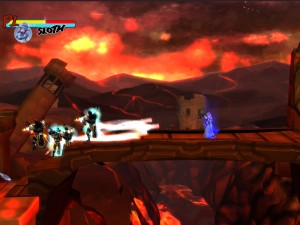 Clicking again un-slows all the enemies and returns the bolt to Sloth for the next shot.
On the meta-game front, we've done a lot of planning and there's been a HUGE code cleanup. Unfortunately I don't think posting source code will be very interested (maybe for another blog post!). Our engine is a lot more flexible now, and we're also ready for DLC which will eventually come post-release.
Our GUI has seen some great improvements in the last few days though. I've been spending a lot of time cleaning up screens we already have and implementing some of those GUI concepts we posted before. Here are the results: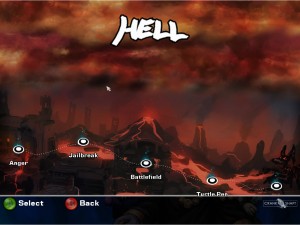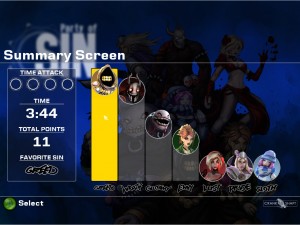 The adventure map is still a work in progress. We're getting our old concept artist and Crankshaft alumnus Tobias Frank to do the painting for us! I'm excited to see it finalized!
That's all for this week!
Dan