What a busy couple of weeks. I fixed up Independent Gaming with a lot of help and returned it to workable order and I also fixed up a lot of my own game.
The perk system is nearly done, but I am thinking of changing up the skill system. I am planning on making it so you choose perks on level-up (as it is right now) but now instead of all XP going to that level and then being used to level things up, I think it makes more sense to take The Elder Scrolls approach and level up skills as you use them. The XP from that goes to the individual skill and the leveling which lets you choose more perks. The crafting system had to be overhauled as well.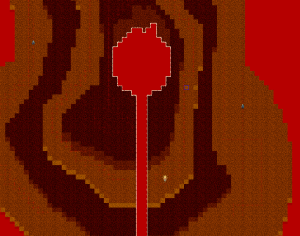 Besides a lot of world editing, the addition of a volcano and some tents in a town you can enter, a cripple system was added where you can accidentally cripple limbs in fights, but it might have to be toned down a bit as it is extremely common. As well, watch out – snakes might poison you if you get too close!
I also added dynamic events such as the spawning of meteorites around morning which can be crafted to make awesome loot and bandit attacks. By far the most interesting dynamic event is the DINOSAURS!

I got my first dino sprite so now you see a plateosaurus or two wandering around the world every once in a while. The plateosaurus is a herbivore so it doesn't attack unless attacked. It clashes a bit with the other graphics but I don't care at this point. Enjoy and happy hunting!