BETA 8 AND BEYOND!
If you pledge $30 or more on Kickstarter (or PayPal), you gain access to BETA 8 and every beta after it. You also get a free copy of Paranormal when it's released!
---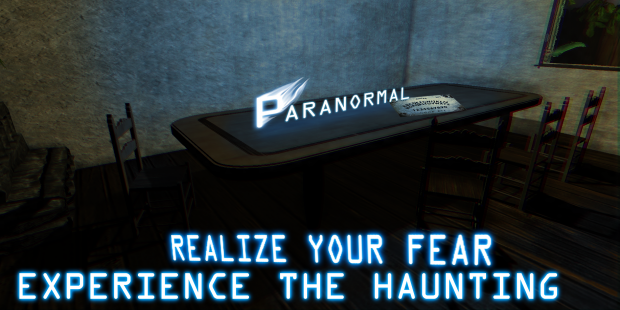 Thank you all so much! This is amazing! I never expected to raise this much money for my game! The betas will continue to be released and you can still get in to beta by donating with PayPal! I'm so thankful to every single one of my backers. You all made my dream of becoming a game designer possible and I will repay you all by making the game I set out to! You are all amazing! Thank you!!!
- Matt Cohen
Paranormal is headed to Desura! If you feel $30 is too much money to get into beta, be sure to buy the game on Desura! You'll gain immediate access to the beta and the full game when it's released! Kickstarter and PayPal backers still gain beta access earlier than Desura users, however. Also, Desura does not count towards the rewards from Kickstarter.
BETA 8 is complete and will be available shortly! If you're a closed beta tester, you can find it in the Google Drive folder you were added to!
BETA 8 contains the basement (finally!), as well as many tweaks, fixes, and additions.
I've been hard at work adding a more guided storyline, while still keeping the open-ended and free-roaming theme of the game intact. I've had some voice work done in the past few weeks and you'll find the entities haunting you have some things to say... I've also added even more dynamic hauntings, as well as dynamic house layout. Certain objects in the house will be different each time you play (or even change overnight!). This is a system I intend to continue to build on and add to.

A Mac OSX version of Paranormal will also be available at launch!
---
Changelog So Far:
Removed jumping.
Fixed most of the control issues.
Replaced what was left of the UDK default HUD.
Added in new menus.
More story content (backstory).
Modified most of the hauntings.
Added Trophy UI popups.
Made sleeping more interesting (you'll see what I mean).
Fixed Hell On Earth trophy.
Added a useless weather system (adds atmosphere, rain can be visible from the kitchen window sometimes).
Improved the camera shader.
Finished the attic.
Added Tiered Haunting system.
Added UI tips that give more direction (battery is running low, go sleep to recharge it, etc.).
Finished the storage closet.
Added strange apparitions.
Added location names.
Added dates to be displayed after every night of sleep.
Added TV scare.
Added end of the game cinematic.
Added settings menu.
Fixed various crashing issues.
Removed slowness on the stairs.
Tweaked volume of certain ear-splitting events.
Changed camera torch (flashlight) to a spotlight.
Added subtle hauntings and changes.
Mural scare.
Tweaked audio acoustics of the house.
Added more randomization switches to enhance the Dynamic Haunting system.
Added Static Cam Nights.
Remade the flashlight (camera torch) for realism and immersion reasons.
Added subtle hauntings around the house that take a keen eye to notice.
HUD tweaked and improved.
Attic scare improved.
Updated to newest version of UDK to help stop crashes.
Tweaked lens flares.
Added new icon/logo.
Replaced voice acting.
Mac OSX support for final version.
Dirty Lens Effect added.
Lighting changed drastically to evoke moody atmosphere.
Added the yard.
Reworked weather system.
Redid the house's acoustics to add immersion.
Added barrels. Yep. Barrels.
Fixed the infamous bug where reading a letter can get you stuck.
Added Bloodmen.
Added more scares to the attic and yard.
Added sub-scares to existing ones, including the ritual.
Added Situational Endings that rely on the player's locations and actions.
Added Left-Handed support.
Fixed the Shaky-Cam re-enabling glitch.
Added bedroom window.
Decreased the amount and volume of the rumbling sound effect per user request.
Enabled player movement in many hauntings, no longer locking them in place.
Fixed the tea-kettle glitch that made the player unable to turn it off.
Began work on the basement.
Added 'hints' left behind by a certain someone.
Added more journal entries.
Began work on randomization of journal locations, so you might not find the same entry in the same spot every time.
Brainstorming has begun for the Garage.
Cloth physics implemented in certain areas. More to come, physics-wise.
Replaced BINK movie from the main menu map with a still image displaying the controls.
Fixed sprint system.
Added randomized house layout instances (expanding this system at a later date).
Even more dynamic hauntings.
Finished the basement (story only for now. I will expand it at a later date).
Began work on the garage.
Added ground clutter to several areas.
Changed computer action.
Expanded the hauntings for the yard.
Finished the baby scare.
Randomized journal placements.
Added new journal entries.
Follow the rose petals.
Added some persistent settings (not all of them are persistent yet).
Removed spawn sound.
Added spawn cutscene (will expand at a later date).
Plenty of new voice acting.
Replaced several meshes.
Updated system requirements.
---
My goal is to release the game by Halloween 2012 (October 31, 2012). If it gets finished before then, I'll have to release it earlier. When the game gets finished depends heavily on your feedback from playing the betas, so please comment on them! Thanks!
We've hit our Kickstarter goal of $800! Let's keep going! Our new goal is $5000! A pledge of at least $20 is considered pre-ordering the game! A pledge of $60 will get you and two friends a copy of the game when it's released! Spread the word!
HELP ME RAISE MONEY FOR PARANORMAL: Kickstarter.com
The Kickstarter project will help fund the game's development, production, PR, and publishing. I intend to release Paranormal on Steam and/or Desura, but I can't do it without your help! Thank you so much!
PAYPAL DONATIONS ARE ALSO ACCEPTED!