Well This week was going very well, was making good progress until I came across a strange bug with Uscript and Ngui compatibility, where Ngui's reflected nodes would overwrite each other. But never fear the Uscript guys are looking in to it so fingers crossed.
Before Progress was halted abruptly I did get some info pop-ups done. These will be mouse roll-overs for when you roll over any icon on the map screen the pop-up will appear and give the 'vitals' of that icon. This can be turned off in the preferences if pop-ups annoy you.
Here's a Screeny of the single ship pop-up:-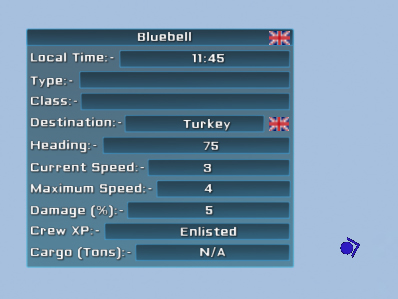 Obviously this example data is mainly placeholder, but the speed values and heading are currently hooked up correctly.
The rest is just placeholder until I get enlightened on these database type things. Which itself is on the backburner as Maus (creator of the Uscript Necronodicon pack - which now adds 200 new nodes to Uscript) has been drawn away with freelance work so it will be a few more weeks until I can get that done. My job is also just beginning to get in the way as well :(.
Apart from that mixed progress here's a few other things which have been worked on this week:-
Started getting a template script together for weapons - obviously this is quite a big job as well, but while the Map screen GUI problems are up in the air I might as well get it started.
Started planning out my 'Museum'. As I said in previous posts I've wanted to give this game an educational element and the museum will be the place to do this. It will also act as a ship/weapon/aircraft viewer. My current thinking is very similar to how Silent Hunter displays its Ship models. Then use a simple scene like in the Achtung Panzer series to display the weapons.
The A class Destroyer Normal maps are just about done, Ive added a pic to the images gallery.
Finished the entire batch of map icons which can also be viewed in the Image gallery
---
After Christmas im going to spend a couple of days doing art and a couple of days doing scripts so I can try and keep the progress in each department reasonably balanced. But for the next few weeks its just case of seeing how it goes.
Thanks for Watching.
John