Salve! The new version of Painters Guild is in development and we want to tell you about what's coming next.
The setting will be 16th century Venice. The city was a major center of the Renaissance along with Florence and Rome, having great painters such as Titian and Tintoretto.
We're focusing on gameplay now. While the first alpha presented the game through the story of Leonardo da Vinci's early life with his master Verrocchio, this time it's all about your own unique painters.
You'll be able to hire new artists for your guild. These artists will be unique to each playthrough: their appearance, stats and personality traits will all be procedurally generated.
You will have your own storylines developing through gameplay. Will you hire a talented but indisciplined boy like Caravaggio? A skilled young man that could get arrested for his sexuality like Leonardo? A driven woman that wants to be an artist against the rules of society like Sofonisba?
Those are only a few of the possibilities you might come across when hiring procedurally generated artists.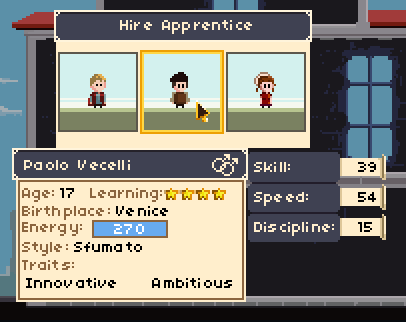 Another look at hiring apprentices.
The release date for this update is February this year, so in just over a month. Remember: you can already play the first alpha at www.guildofpainters.com.
So to sum it this preview of the next version:
The setting will be the beautiful and aquatic city of Venice in the 1500s.
You will be able to hire procedurally generated artists and train them to become the next Da Vinci - if you can.
This new version is coming in February 2014.
More features and screenshots will be announced in the following weeks.
If you like what you see and want to play a game where you manage a guild of painters in the Renaissance, vote for us on Greenlight here!
Anno Domini 2014, die 5 Ianuarii.