Time flies by so quickly! :)
The Kickstarter and Steam Greenlight launches that I've planned for months will finally happen in a few days!
Both pages will be online simultaneously on October 6th. (next tuesday!)

For that occasion, I've been preparing an updated demo of the game (v1.3). This takes account of all the feedback I've had so far!
-----------------------------
CHANGES SINCE 1.2 :
-----------------------------
- HTML5 version of the demo available!
You can now run the demo directly in your browser!
- New Bjorn and Sandra expressions!
Despite my game being a Point & Click, the Ace Attorney series had quite a big influence on it!
And this is why pretty much every character in the game will have several animated expressions!
For example, here are the current Bjorn expressions :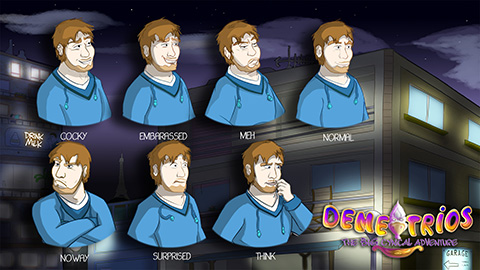 - Cookies are bigger and easier to find!
Most people found that cookies were a very interesting concept. They're hidden on screens and you need to find them to get in-game hints. So it's kinda like an optional game in the game!
However, they were a bit TOO well hidden. So I have resized each of them about 1.5 to 2 times.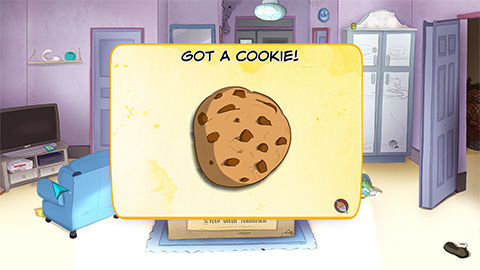 Also, there's a new cookie counter, which gives you how many cookies are left to find in each room! This should make the search more attractive :)
- English and French texts have been proofread
English isn't my native language, and Draclvr from the GameBoomers forum has been kind enough to proofread the game text. There should be way less mistakes now :)
Another adventure game fan also did the French text proofreading - even though I'm French, I still make some spelling mistakes :p
- Corrected windows interfaces to make them prettier
Some of them had been very quickly done for the first prototype, and I never changed them. Now it looks better and more professional!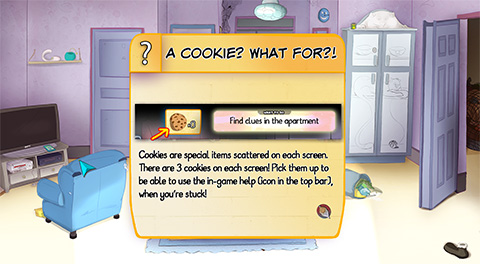 - Corrected fonts for french and spanish characters
Accented language-specific characters would not display. I had to modify the TTF font manually to make them appear!
Finding good-looking copyleft fonts is very difficult, and fonts with support for every language is next to impossible!
I didn't want to revert back to basic fonts like Arial or Verdana, so this was pretty much the only solution.
- Improved game performance
I've added a cache for dialogs and translations texts when changing room, so they're not loaded at every room switch. This makes for a much smoother experience! Now changing room is near-instant on modern computers!
- Improved hotspots view (prettier and texts don't overlap anymore) :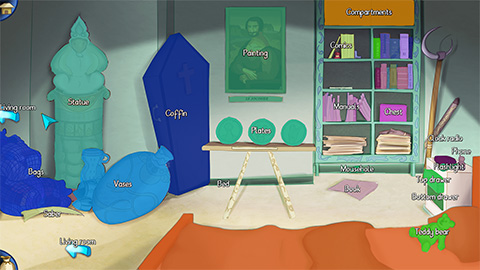 - Automatic framerate detection
The game will run at 60FPS or 30FPS according to your computer abilities! This is detected during the game startup.
Frameskip is managed manually in the game engine (all the variables related to speeds like timers are doubled at each step)
If you'd like to try the new demo, it's available on my site : Demetriosgame.com
And soon on IndieDB! :)
To finish this news, here are a few updated screenshots from the game :