Hi everyone!
I'm now preparing for PlayExpo in Manchester, and this is a sketch of the stand I'm planning to have: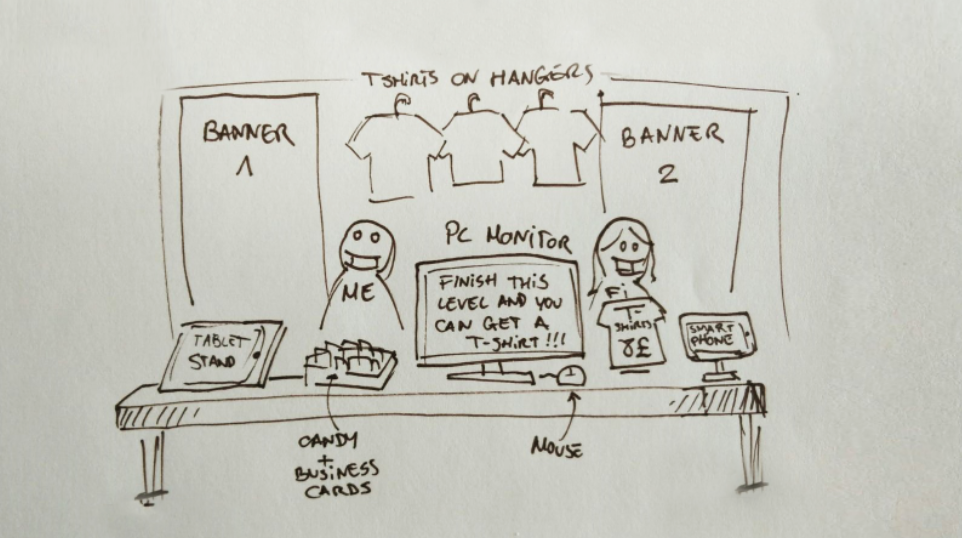 If you have any thoughts, suggestions, tips, please let me know! One crazy idea I had was to create antennas like Sokos' one, and wear them, although I'm not sure what I'd use for that :)
So, I'm planning to sell t-shirts without getting any profit, give away candy with my business cards, have a competition on site for people who finish certain difficult level from the game, and that's pretty much it. I have purchased the tshirts with clothes2order which ended up being around 8£ each overall. The banners, I had them ordered from VistaPrint, it was not my first choice, as they were a little narrow for the second-hand banner stands, but it was the only place where I could get them unmounted and without grommets. Stands where just 10€ each, and the 2 banners, plus 1000 business cards, 120€. Everything is starting to add up, and I'm guessing I won't have holidays abroad this year (in fact I'm taking them to work on development, hah), but I think it was worth it.
My baby: Sokos, is being born this October, and that's a feeling no sunny beach can provide (nearly, but still not).
Also, thanks for voting Sokos on Steam Greenlight: Steamcommunity.com
We're half way there!
Andres.