With Precursor getting closer to releasing a Beta version of gameplay, we would like to inform you about what has been going on behind the scenes. For instance, we would like to display the armor set for one of our numerous tribes.
The armor system in Precursor will incorporate more than 10+ individual components, allowing players to have a large amount of character customization options. Players will come across foreign lands and cultures, rare materials, and other secret items throughout the experience. While scavenging for materials, players have the ability to determine how they want to create each of their armor components (depending on what they found). Ultimately, each player will have a unique armor set that sets them apart from the other participants.
Early Stage Armor
After being washed up on the shore in the beginning of gameplay, characters are equipped with nothing more than their loin cloth covering their vulnerabilities. It is up to players to begin sourcing more durable materials at the early stages to protect them from the dangers lurking.
At the early stages of the game, players will have access to the basic materials in their vicinity. Players should use these materials to craft armor, enabling them to upgrade their armor and begin training their character with the weapon type of their choice. As the game progresses and the land is being mined for its resources, the availability of higher tiered materials will become abundant, giving players the opportunity to take on more prominent enemies and elements.
Precursor offers players varied armor tiers which have their own individual perks and in-game benefits.
The Nine of Kib tribes iconic top tier Caster/Heavy Armor Set: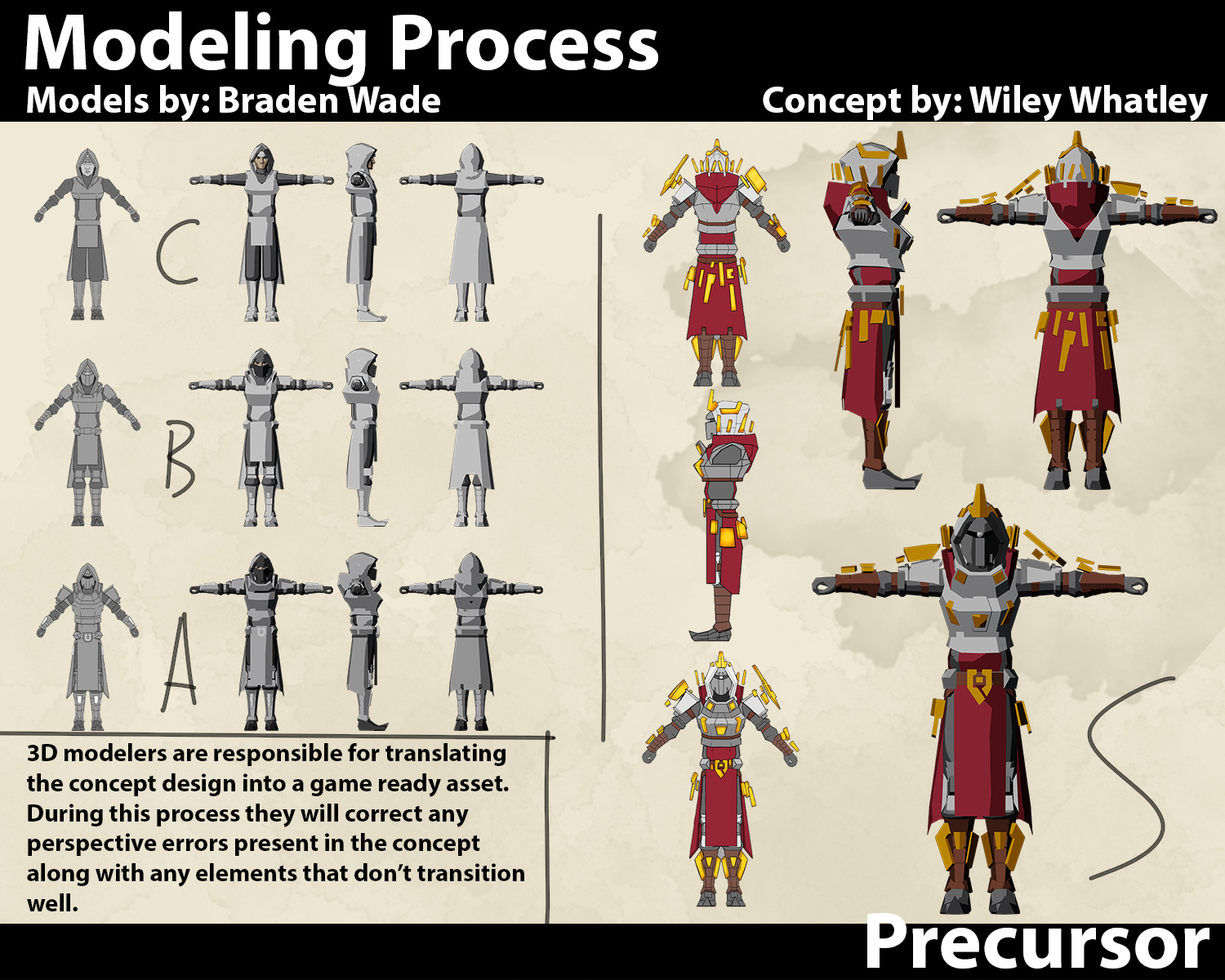 Each island has its own unique materials to which they can source and craft to strengthen the overall character state. This gives players the ability to be creative with their resources which aids their longevity.
The Nine of Kib
Tribe - Warrior
Materials - Metal, Wood, Textiles
Visual inspiration - Historical Crusaders
The Kib war against iniquity itself, their enemy is the reprobate, their guide is the spirits of their ancestors. The Kib are great craftsmen, and their warriors apply their art to fashion mighty arms, armor, and fortifications. They recognize no authority besides their unyielding conception of virtue. They respect no way of life aside from their own. Many a person remembers with bitter sorrow the day the Nine of Kib fortified in their valley, it was the day their way of life was extinguished, purged before the judgment of the light.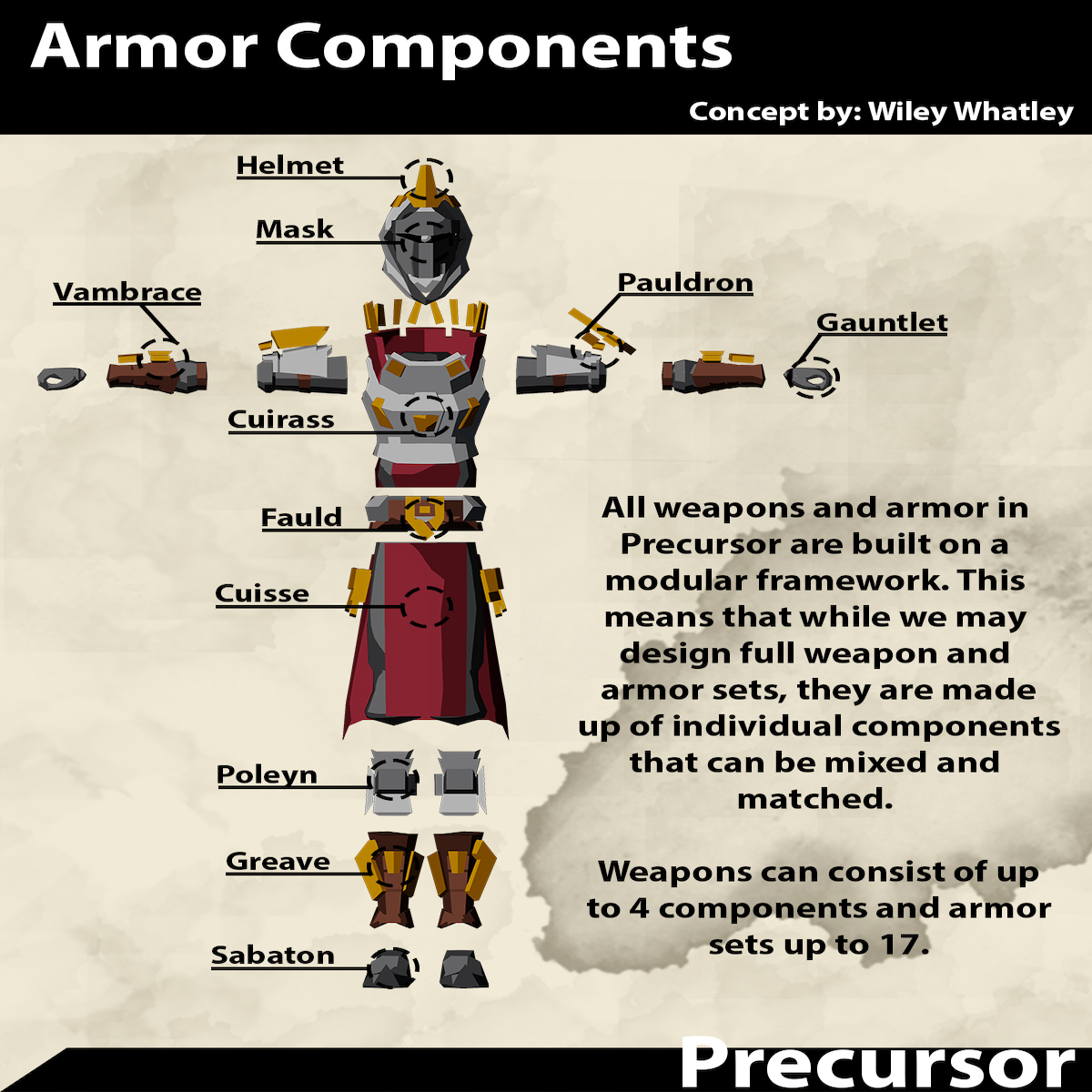 In order to overcome the unrelenting implacable map that the game will have to offer, moreover conquering their own vulnerabilities and constant battles with evil, they must perfect their craft, by sculpting indispensable armor, weapons, shelter, and skills.


Todays press release will focus on a few components that make up the features in which to expect in our final release. After several tests and working on optimization, we arrived at the end result for the mechanisms mentioned below which are already being inserted into the project.
MESH COMBINING SYSTEM
In the early stages of our design process, we decided to make use of mesh combinations which allows us to integrate various aspects of a characters formation (armor, weaponry, etc) while maintaining the solid-geometry in a single object, this in turn increases the performance optimization of gameplay.
CLOTH SYSTEM
Lastly we have adopted to use simplified physics for the character fabrics, which in turn does a full simulation on the client side for visuals in game play, this allows for movement of external fabrics to be determined by the characters motion. This was chosen as speed controls the movement of the cloth and how much it moves, while also providing a more realistic view for the players.

And here's a preview of testing the slope mechanics on our live test server