What we did this week
Campfires
We added campfires which players can now craft using wood and stones (for the base of the fireplace). The nights in Life's Fall are dark. Really dark. So having a campfire to light up your camp will be a big plus. Although it could also make you more visible – making you an easy target…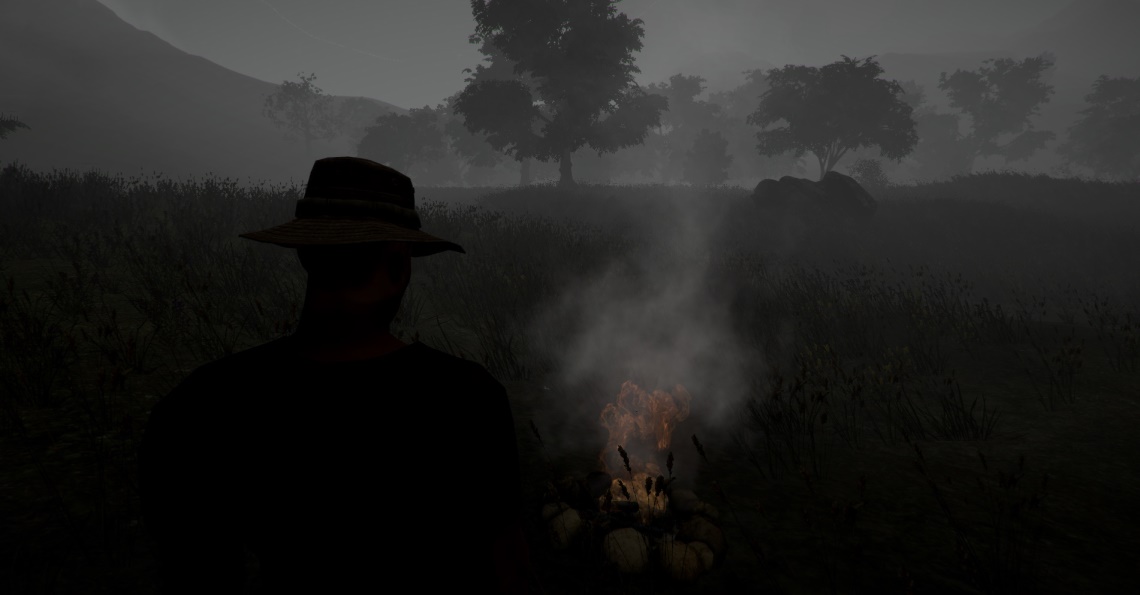 This image shows off the new campfire as well as the recently added volumetric fog.
Basic Wooden Base Parts
There are now two tiers of base parts in LF. Basic wooden parts (Tier 1), that can be crafted from relatively few materials and will provide players with shelter from most immediate dangers.
They aren't expensive to make but also have low durability (i.e. They can be broken down more easily than standard base parts). The standard parts will be much more expensive to craft but have much higher durability. We've decided that base parts won't be directly upgradable but will instead need to be crafted separately. It will give the game a more realistic feel and also leave players faced with the choice of building a safe base from the start or having a temporary base that they'll take down again later (or a mixture of both).
Networking
Currently we have networking (on stable servers) that supports up to 50 players at any time on a single server. Our current networking also has quite a few other drawbacks as we never initially anticipated to be making an MMO game. We want to be able to support even more players per server and also support modding on some of our servers in the future, and as such have decided to switch to a new networking library. Another advantage to the new networking library will be improved Anti-Cheat and security tools. The new servers should run better and be safer.
We are currently working on the server-backend and adding content to the game at the same time. We expect to have the networking (mostly) rewritten by the end of the month. The new networking library uses a similar API (so a lot of the code can just be modified), so it shouldn't be too much of a shift.
Spears
We've done some tweaking on how melee with spears work. Firstly, spears now bounce back when hitting an object, so if you hit a tree or rock the spear will bump back simulating real-life physics. They also now have slightly more accurate aim when using them as melee weapons but the position they will hit is affected by velocity. So if a player runs and stabs with the spear it will be less accurate than if he was standing still with it.
We also brought down the speed of the spear a little bit. We want to prevent LF from becoming a pure Kill on Sight –game without actually imposing any restrictions on the player. In order to do this we have designed the weapons and UI in a such a way that it is a little more clunky. We made the spear a little slower in hopes that this will intensify the threat of someone with a fast weapon such as a knife even though the spear has much longer range. Timing will be crucial when engaging in melee.
Life's Fall Pre-Orders
You can now pre-order Life's Fall via the Humble Bundle on lifesfall.com! This will directly be funding development of the game. The game is available for $19.99 at Lifesfall.com
Please take note that you will only be receiving the game once it is ready for Steam Early Access. You will also be getting access to pre-launch test builds as part of the pre-order.