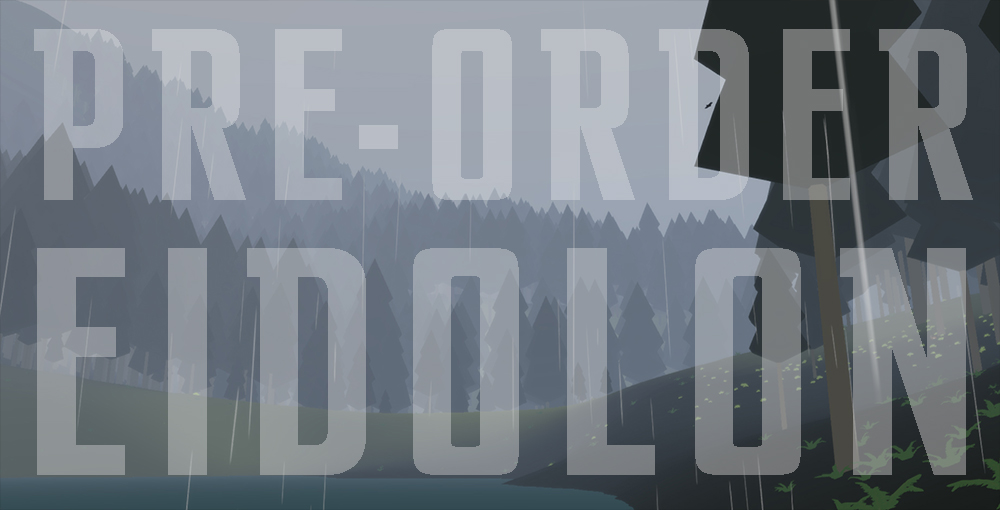 We're so excited to finally be able to offer pre-orders for Eidolon, thanks to Humble Bundle! Pre-orders are one of the only ways available to help support our team financially during the development of the game. If you're excited about Eidolon, consider this a way to show your support, get the game for cheaper, and make the game better in the long run!
We also want to take this opportunity to clear up a few questions we've gotten around the web (especially on Steam Greenlight):
It's a single-player only game currently. This makes it easier for us to build, but it also benefits the tone of the game. Loneliness is important to Eidolon.
We're using UDK, and that means that platform support is probably limited to Windows and Mac for the immediate future.
The world is going to be far richer and livelier in the next build than it was in the last. More brush, more animals, more life, more interesting areas, etc.
We're considering crafting and cooking as possible mechanical additions in the near-future, but probably only to limited degrees.
The landscape is not procedurally generated. We want to use this to our advantage by making zones more intentionally, more thoughtfully designed. Sometimes procedural generation is interesting, but it often falls short. We want to guarantee that it's worth the player's time to explore this place.
You won't see the player-character's hand, face, or ever learn anything about them. You are the player-character. The game is fundamentally about the world and the history. It's important to us that we never tell you who you are or what you want. You know what you want.
Related to above: Eidolon is fundamentally interested in player freedom. Your goals are your own. We will never tell you where to go or what to do, or stop you from doing anything you want in our world. However, we will make sure that the world is worth your time, and that there are interesting possibilities around you.
Expect to see and hear a lot more about the game as we work on it. We want to be very open about it as we go, and will probably come out every once in a while with a new trailer or build to show off. We're currently discussing the degree to which we could release playable alpha or beta demos. We don't want to spoil the final release with too much openness about the story, but I think that perhaps we can get around that.