Pre-Alpha Play Day Sunday August 12, 2012!
Kingdom Commander will be playable at www.kingdomcommander.com for anyone and everyone to try out the game.
---
So what
IS
Kingdom Commander?
Kingdom Commander is based on a game which could have been one of the biggest turn based strategy game ever made: "Moonbase commander". The game is still talked about today! With new gameplay features, 3D graphics, cross platform play, and much more Kingdom Commander is poised to be thee spiritual successor. Old Owl Games is comprised of X-Irone Lore and X-Harmonix veteran developers that have worked on it for close to a year and are ready to get some feedback from fans and newcomers.
We only ask you sign up on our forums and let us know how it goes! Better yet we'd love to see live streams or video of you playing with your friends.
---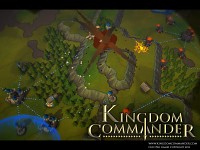 Thanks!
Old Owl Team