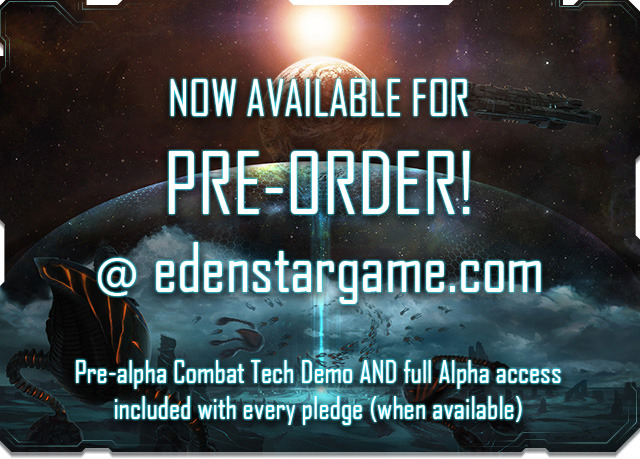 On behalf of everyone at Flix, I would like to say a huge thank you to each and every one of you for your pledges, comments, and support. It has been amazing (and humbling!) for us to hear that you are as excited about the game as we are, and want to play it as soon as possible. We have read every comment and have taken all that you have said onboard.
So, due to the feedback received we have listened and decided that today we are cutting our Kickstarter short. We are proudly announcing that no matter what happens, we will create Eden Star, and you can get your hands on an updated version of the Pre-Alpha Combat Tech Demo via the Eden Star website with every pre-order of the game. This allows us to make builds of the game available at the earliest opportunity and at the lowest price point for early backers, but not compromise on the quality that we at Flix forever aspire to deliver.
Let's keep it simple! Any early pre-orders of the project will be able to be purchased at the discounted price of $15, and will receive access to the very first playable Eden Star Alpha build and all updates thereafter. All backers will also receive the Eden Star Pre-Alpha (created in UE3. ETA: December 2013), if you would like to pledge more, then you can!
Backers can now pledge via our Humble widget which accepts payment via Paypal, Amazon Payments and Google Wallet.
We also plan to add further tiers at a later date for those who want them, but for now, the focus will be on developing the core aspects of the game, and as before, we want your input to create it. All proceeds will go towards development, and we anticipate being able to release regular updates from Alpha onwards. We will also be keeping you all up-to-date with the latest developments through regular updates and weekly video sit-reps.
We want to be as transparent as possible, and with this in mind we have broken down the project to allow us to deliver a working version of the game within a shorter time frame, but as polished as possible.
Ultimately, we are so passionate about making Eden Star, no matter what happens it will be completed! We are self-funded and will continue to make what we believe could be something special and fun to play. The more funding we receive, the more of the full scope of the game we can create - so please spread the word!
Also, we'd like to announce that tomorrow, we will be showing the demo at Minecon in Florida! If you happen to be at the event, we'd love to see you there and give you a chance to play our new, improved demo!


Enormous Thanks for your support!
John Tearle
CEO - Flix Interactive