How does character development begin? Of course with concepts, the first raw sketches, tries and errors. Our Potata was same way. I have tried many different images and styles before find final appearance of the heroine. Let's take a look how it all began and what happened after character's countless changes.
Character creation process for a platformer have many limitations and requirements. The most important thing is character readability in the environment. If you want to achieve it, need consider few points:
1. Simplicity.
We can't give to the character complex clothes and need keep clothes elements as less as possible (you will need to animate them all and better don't make too much work yourself)
2. Spot.
In the ideal case, it is better for the character to be a single spot, but it is often impossible. Therefore, the character must be divided into the main parts (hair, face, cloak, shirt, pants, etc.) and each of them should noticeable. The spots should be different sizes, in a hierarchy from large to small.
3. Integrity with the environment.
Character should noticeable in an environment, which means he should be contrasted in something, but he should not look like cut off from another game. This does not mean that we cannot afford a character style different from the environment (remember the anime Miazaki with a stunning environment with so much details and characters made in the style of "outline-fill"), but the difference should not be so radical as to divide the picture into parts.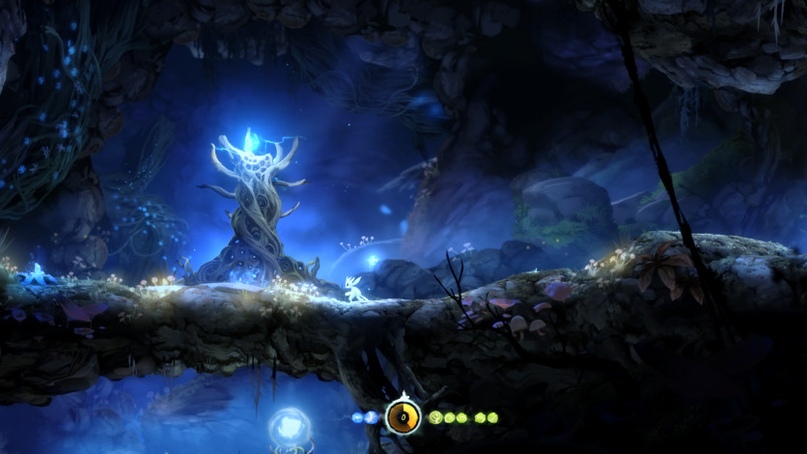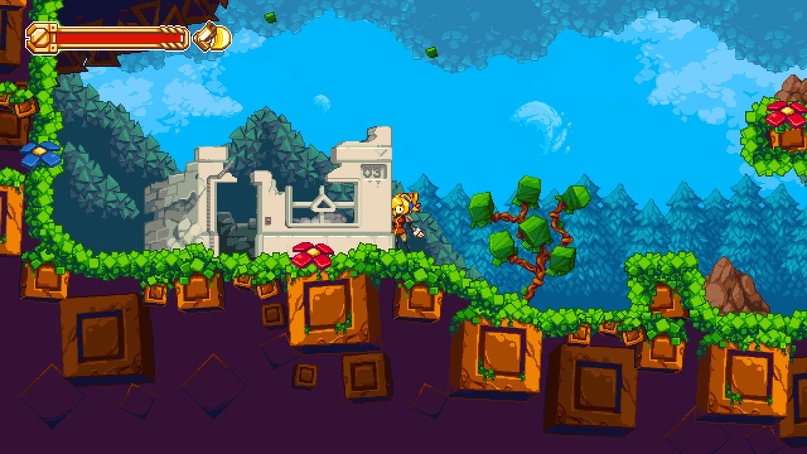 I specifically have found examples with varying degrees of characters details. If in Ori and Seasons after fall, everything is simple and clear - the character is almost a single spot, contrasting to the environment. In the case of other examples, everything is a little more complicated, but still we see spots on the character, which at some point in the gameplay help not to lose sight of it. Bright hair and voluminous hairstyle, clothes of saturated color. Locations in the game can be different in color and tone, so it is precisely different spots on the character that help to read it in the environment, even if it changes.
Before moving on to drawing a character, need consider his description in text form. It is necessary to build on something, and not draw at random. Potata's description is: witch-mage, mischievous, fidget, travel enthusiast. From this words, we must understand what elements we can translate into design.
So, we start the game in association:
· Witch: broom, hat, red hair
Mischievous: bright colors in clothes and jewelry, negligence of clothes (boots of different colors, hat crookedly sitting)
· Travel enthusiast: backpack bag, powerful boots, warm clothes, stick staff.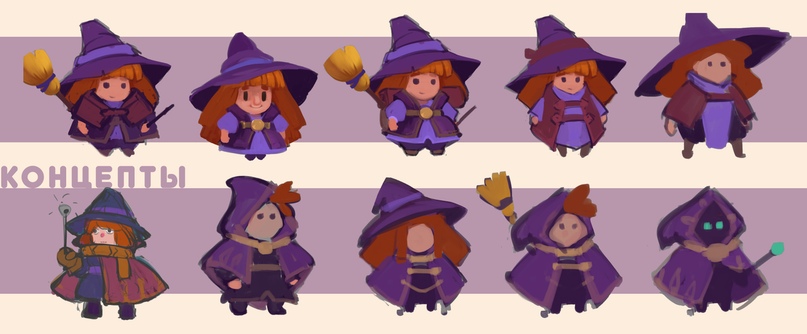 Naturally, all selected elements cannot be immediately pushed into one design in the conditions of the required simplicity. But we have a starting point from which we will begin to visualize the idea.
After stage called "a bunch of options" select one from heap and finalize it. In our case even was made animations for character, since it could look good in static, but after animation you could notice, that something wrong. And this happened in our case, the character was too compressed in proportions, because of this, the animation was poorly read and certain difficulties of limb movement appeared (it's difficult to make action movements with such small hands). You also need to remember check character readability in environment.
After little suffering and feels like "I don't know how to draw," a test of different styles and proportions begins. Keep main colors and elements, two more variants of the character appeared.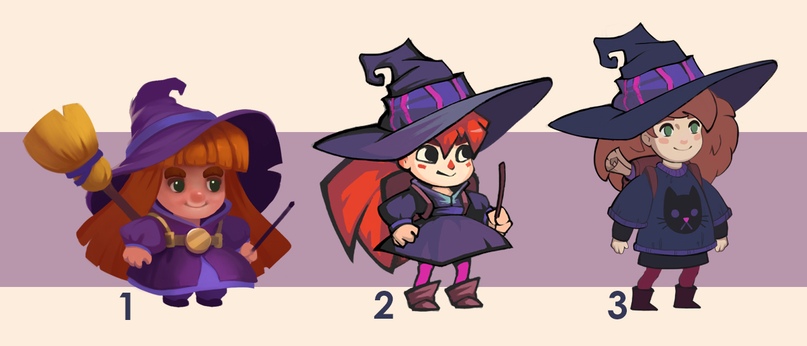 Now need make decision about character style. Important to do it exactly at the stage of creating the main character. The remaining inhabitants of the game world will be made in the same style and it would not be logical to change the style when the entire population of the village is already painted.
I try not to be guided by the "like-dislike" method or "but I love red, let everything be red", I try to form a series of criteria by which this or that option is better for the project (oh, if all art directors did everything like that) .
The first option was discarded due to the tightness of proportions, and too cute. The third option has a very thin stroke, which reduces readability in small format. By the way, another important factor is readability in the final size. The character in the game is quite small and some things can only get in the way when reduced. The symbol of the black cat on clothes is also poorly read with decreasing. Was decided to remove the backpack, because it is simply not visible in the game. And why do something that is not visible?
We end up on the second option, but then happened something unexpected. I played the game Mystik Belle and realized that our characters are very similar. Why so?! After all, I have such a unique design, a red-haired witch in a purple dress and hat! And with a magic wand!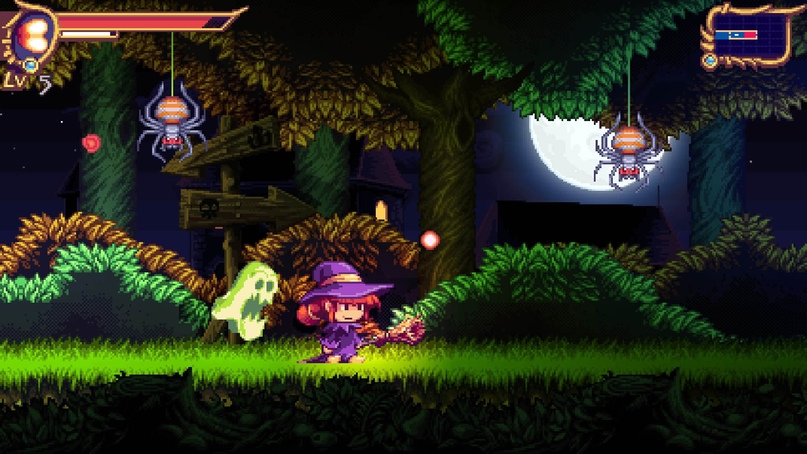 But seriously, I realized that the character turned out to be too typical, and for sure there will be another thousand and one projects with a similar main character. Well, again start everything from the beginning.
I did not want to refuse the idea of a witch-sorceress, since the plot was already built on this basis. But there are different sorceresses, and I turned my attention to the theme of the "forest tribe".
first build with character
At that time, it was the final version of the character, I was completely satisfied with it. But then a terrible beast called "feedback from YouTube" have came.
From that moment throwing began between own vision and the opinion of the audience. For a very long time we were looking for a compromise solution. Up to the last version, I wasn't sure that this is the final character. How to filter and accept critic is a topic for a separate article. In this article I want to say one thing, the truth is somewhere in between. You cannot completely reject your audience, but blindly listen advices from a random people is also unacceptable.
I try to form a set of points for process the element again.
The set for this version looks like this:
1. There are too many spots on the character's clothes. Clothing is divided into torso, sleeves, collar, legs and boots, all it looks too separately.
2. The braid, which was originally designed to improve the effect of the character's movement in fact, strongly emphasized each flaw in the animation, especially on transitions from one state to another.
3. Same size of spots. There is no main segment. It is necessary to highlight something like voluminous hairstyle or long skirt.
4. Potata is still too "cute", can make her a little older?
Potata's clothes became more wholesome, unnecessary decorations disappeared. The blue color of the dress is better read on a green background, and green is the main color of forest locations. The hairstyle became more voluminous, the spots lined up in a hierarchy: dress, hair, face.
But, as you already know, this option is not final. The time has come for the Potata_final_final_superfinal_.psd file! While writing this article, I was trying to remember why I decided to redo the Potata teenage version. Maybe someone throw out his important opinion and I take in bad part, sat down to redo everything again. Maybe it was just the mood "everything is bad." I am a very self-critical person, constantly dissatisfied with what I create. Maybe an attack of self-criticism became the cause of new changes.
Looking back, I see that at this stage I begin to run around in circles. When it is already at the finish line and path is passed, it is easy to talk about your mistakes. You see them clearly and know how to fix it. But in the search process it is always more complicated, the main thing is to finish this search at a certain moment, otherwise you can endlessly search without nothing in the end.
Potata shrank again in proportion, cut off her long braid. Equivalent spots appeared again: face, dress, hair. Here is an example of the negative impact of continuous changes. You stop understanding where it is better and where it is worse. At this moment there is no "better is worse", there is only "in a different way".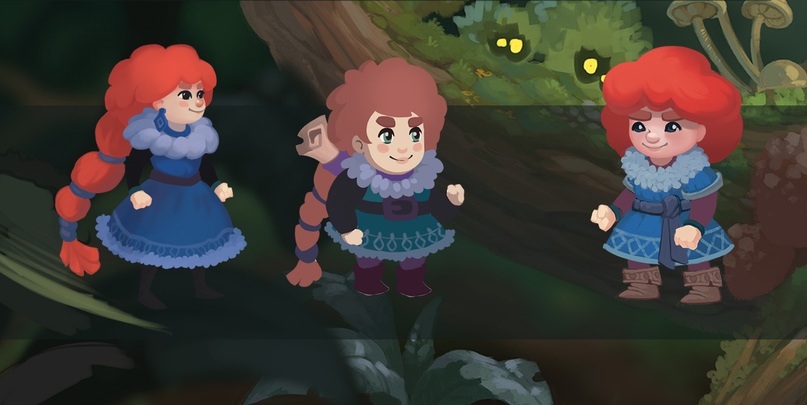 At this moment I swear once again not to change the character design. Since we had all the animation ready, completely changing the character is too expensive. It was decided to change only the head. Body and general skeleton of the animation will remain the same.
Also remove the collar, because in small size it was like a "beard". Initially, the collar was made according to the logic of cartoon Uncle Fedor, where picture hide the hole in the wallpaper. Our collar hides shoulders and animation flaws. After animations fixes collar wasn't need anymore.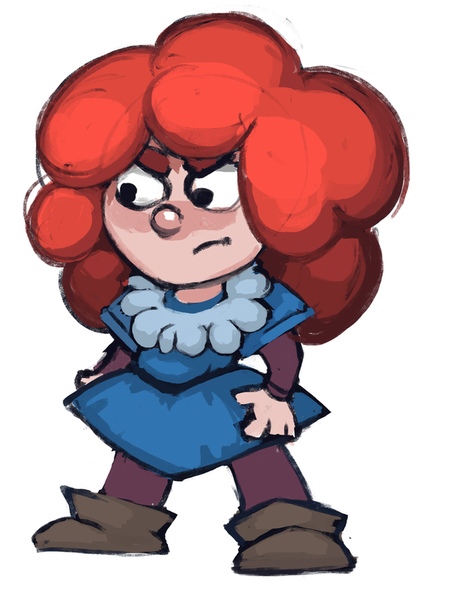 The hairstyle has become much curly to highlight the main spot in the design. I want make character restless and naughty, that's how she acquired a malicious smirk and a frown.
Then again came the terrible, but already familiar beast, "Feedback from YouTube." I will not list all the epithets about the face of Potata, but I liked only one "face like in the first max payne". Now I solemnly swear to don't change the character and decide to change only the face. I hope it doesn't get to the point that I will only change nose or eye.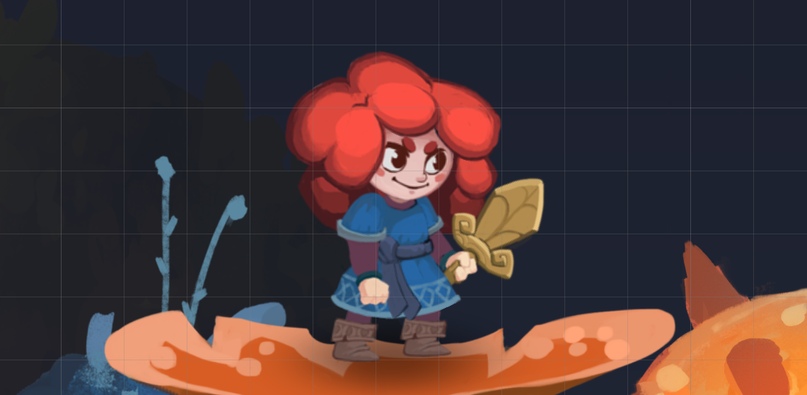 So, in just a couple of steps, we came to the final character design. I solemnly swear, I won't change the character anymore.
steam: Store.steampowered.com
twitter: Twitter.com