We are also opening Closed Beta Testing signups so Hurry Up and Register! Don't miss your chance to Preview the game and Influence it's development!
Postmortem is a short exploratory adventure game taking place in a fictional industrial-age country of Galicia, ravaged by five years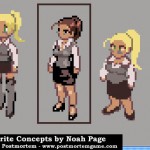 of violent rioting between two ideologically and economically divided communities. You play as Death incarnate, sent to a peaceful fundraising gala with the objective of claiming a single life from any of its attendants and staff.
Oh and to the right is an extra piece of sprite concept art from one of our talented artists, Noah "HeartGear" Page. Who is this woman? How will she look in final release? What does she tell you in that lobby? Only one way to find out! Sign up for Beta Testing Today!