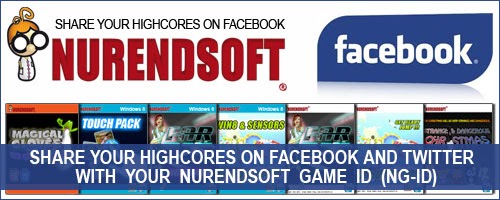 LINK YOUR FACEBOOK ACCOUNT TO YOUR NURENDSOFT ACCOUNT
Now you can share with your friends on
Facebook
, your best scores, times and achievements made in our games.
Link your Facebook account to your account in NURENDSOFT and, through your NG-ID* (Nurendsoft Game ID), you will publish your highscores automatically on your Facebook profile.
Also, if you link your Facebook account, you will get 40pts to get products in our P-MARK.
List of games that uses Nurendsoft Game ID function:
Magical Gloves: The Lost Volume

Future Aero Racing (FAR)
& Future Aero Racing S.E Windows 8
High Jump 3D & High Jump 3D Windows8

---
What are you waiting to share your highscores with your friends?
---
*Only post on your social networks, the videogames that using the NG-ID functions. To stop publishing, you must unlink your social networks from your profile on NURENDSOFT.