We met so many great people! It was beyond amazing to see so many very different people having fun playing the game. The feedback we got was invaluable, and will make the final game that much better.
We talked to quite a few very nice journalists who were keen to hear about our little family team and the game we're making, and we talked to a few more when we got home :) PAXAus was a hundred percent worth it for us. Getting the demo ready wasn't easy, physically getting there was a bit epic (we had to travel 2000kms with 3 kids and the stuff for the booth), and we all got PAX pox which wiped us out for weeks when we got home! But it was soooooooo amazingly incredibly worth it.
We're planning to release next year at PAX Aus, and hopefully head to PAX Prime next year!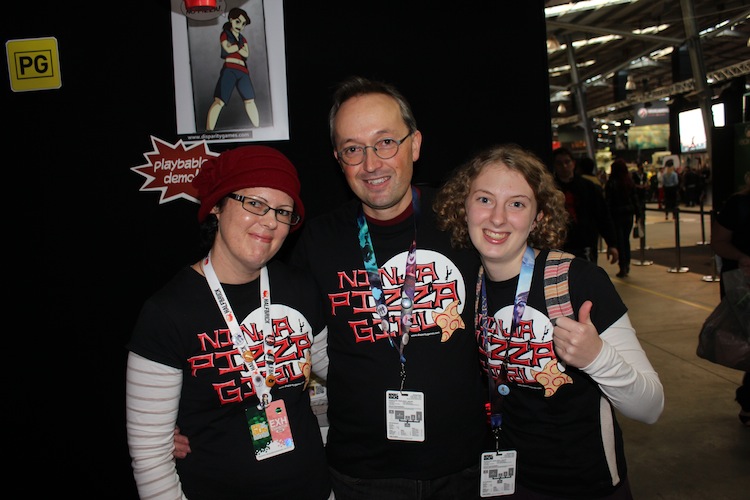 Penny Arcade Report: The Family that's making a game and the 16-year-old artist who will never get "good enough"
Ben Kuchera talks to us about Ninja Pizza Girl and what it's like to be a games developer at 16.

Rock Paper Shotgun: Early Delivery - A look at Ninja Pizza Girl
Cara Ellison plays Ninja Pizza Girl, much to the delight of her sixteen-year-old self.

IGX Pro: Indie Spotlight - Disparity Games
An in-depth look at who were are, what we do and how we do it. By the incredibly friendly Mister Vincent Parisi.

Another Castle: PAX Aus 2013 - Platforming for iOS with Ninja Pizza Girl and the Family
A live interview with Jason at PAXAus 2013 by Kaes Cillessen and his extremely professional crew from Another Castle

Save Game Online: PAX Indie Games Highlights
Ninja Pizza Girl appears in this round-up of awesome Indie titles from PAX Aus

Barrel Roll Gaming: PAX Aus Disparity Interview
A live audio interview at PAX Aus with Jason by the young but awesome Jake "Stevo" Stevens.

Gamefront: Ninja Pizza Girl Preview - Family Values
Stephen Heller "stealth" interviews us during PAX Aus and likes what he sees.