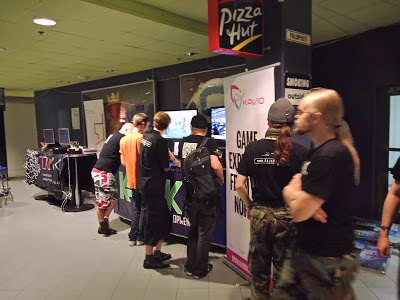 False advertising, we admit. The pizza was a lie.
Hello people of the Internet! We are sorry to have sneaked on vacation without announcing it properly, but we now are back, refreshed and running. This is Niklas, bringing you a few words on the process on Interplanetary and some more on my trip to the Assembly Summer '13 with the rest of the KAMK crew.
Before the well earned holiday we worked Interplanetary to the point where we could start working on in-team alpha testing. Some bugs and gameplay issues popped up immediately as usually happens with tests like this, so we will now focus on making things better. After that, it's time to start dragging in test users outside the team. If you're interested in being one of them, drop us a line and there's a good chance we will include you! Notice that unless you have a friend to play hotseat with, you may need a VPN client and end up playing against one of us.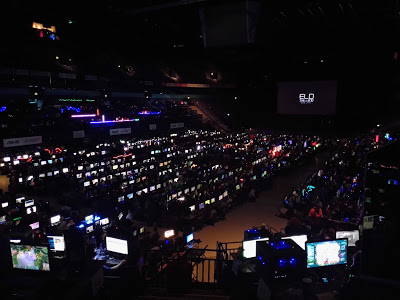 This is what it's all about to many of us.
Now then, Assembly Summer '13. I will take the liberty to write from more personal perspective as I was the only member of TJR to travel this time. We originally intended to bring a two-man strike team, but Jukka succumbed to a nasty stomach bug prior the trip. But I still had a chance to take part, thanks to the very generous people at KAMK. The event itself was of course awesome as always, but this time I didn't quite manage to get the best out of it.
Here's what lacked, so you can do better!
We did not enter the game compo. This was a decision we made pretty early on. Interplanetary is not the sort of game that fits very well in a compo like this. It takes at least half an hour to really get into the game, and that's simply too long, we thought. However, games are presented to the audience in a game trailer form, which would have been doable for us and the compo is really good publicity. M.A.D, a KAMK game we had running at the stand got a lot of attention, and many people mentioned they had found it through the compo.
We did not bring a game demo with us. This is something we actually planned on doing. The demo wouldn't have been exactly Interplanetary, but instead a modified version of the early proof-of-concept version you can download from right there on the right hand side. We planned on having the game run on a touch screen we had on the stand and have people compete for small prizes. The modifications didn't make it in time though, as we prioritized finishing the alpha. In hindsight, the demo version would've been a better choice.
We did not direct our marketing to the players. I was seeking out professional contacts as usual, even though there weren't many around. This is something we should have considered earlier: Assembly might be one of the best places to reach the target audience directly when you are making a game for fairly hard core PC audience.
We didn't prepare well enough. The event was too fast upon us, and we had decided some time ago to have our vacation right before the trip. Because of simple mistakes like this, we didn't have enough time to think through what would be our goals, prepare marketing material etc.
I neglected social media. Like mentioned in the guide I made earlier, events like these provide excellent content for social media, and it's also a good chance to communicate with people who are either present or just interested in what's going on on site. Unlike Nordic Game Conference and Free Your Play, this time there really wasn't a good reason behind as we had both working wifi and native 3G to work with.
I brought those awful shoes I had at NGC again. Ouch.
Nevertheless I still consider the Assembly trip well worth the time. I met new people and got to spend good time with some fellow nerdy people. Next year TJR will be there again in one form or another, and we will make the best out of it. See you there!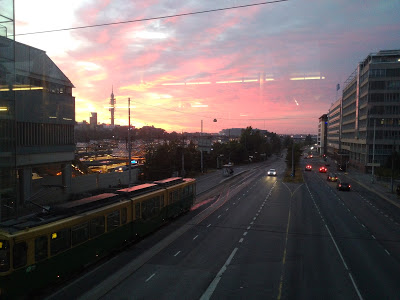 No matter what the locals say, Pasila can be quite pretty. Next year again!