It's been only a few hours since Gender Bender DNA Twister Extreme's Alpha launch and practically all of the feedback has been great! Both me and Zetsub are ecstatic about the response and are now hyped up to keep moving this project forward!
So I figured I could post this short (welp that escalated quickly!) article about what is currently accessible, and what we plan to add.
Gender Bender DNA Twister Extreme is a Visual Novel chronicling the everyday lives of a group of people whose fate will be altered by their involvement with a certain pharmaceutical company. And the lab explosion was but the beginning...
The game is intended for a mature audience as it occasionally tackles mature themes including but not limited to: sexuality, gender identity, spreadsheets, lab experiments, crazy people, and tunafish sandwiches.
What we have
At this time, The Alpha build contains the entirety of the Yael route. This route spans roughly 3.5 hours of gameplay (at a reasonable reading speed), has 8 choices, 4 endings, 3 transformation sequences, and 8CGs.
1. Yael is just an unlucky university student who had to do some part time work at the lab for school. Little does he know that an upcoming accident might just get him in touch with the girl of his dreams.
What's Coming
Yael is only the first of a planned 13 characters which we've tried to design around the idea of presenting a variety of perspectives around their sudden gender change.
2. Ben works at Abbadon Pharma day in and day out, but it's always the same old boring work! Who could have guessed a lab accident could change his life forever? And when the heck will he get a raise? They just don't pay enough for these work conditions!

This route will include both male and female love interests.
3. Liam is very important around the lab! but we're not ready to share that story yet ;P
Liam will be getting a love interest in his route, and a few experiments which may lead to a werefox, foxgirl, or mermaid form.
4. Derek is sort of the resident mad scientist. I'm sure he's got nothing to do with all of this! And I'm sure he doesn't wind up with cat ears or anything.
And this is where I slightly spoil my description to say that Derek will not have any love interests (in his route)but he will have a variety of experiments which will result in a werecat transformation, among others!
5. Dan's the shy lab tech. He doesn't talk all that much but damn does he know computers. I bet he never expected his skills to become handy behind stage!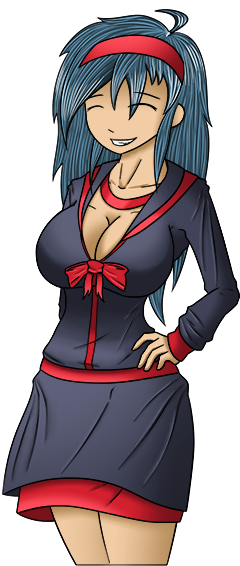 This may well end up being our most complex route with a great number of player choices. It will include both male and female love interests.
Oh and Lach just interrupted me on skype saying this "You need to mention the Din route is massive!"
And then he added this. "It will include both male and female love interests, and in the current plan it has approximately 15 different endings to unlock."
and then he said "15 is a big number"
followed by "Don't Write 15 is a big numbe"
Smooth typo there Zetsub! ;P
6. Ray. Getting caught in a strange lab accident and having to wear a bra are bad enough, but his childhood friend showing up now is just unfair. How will Ray prevent his friend Andrew from figuring out what happened? We'll just have to see!
7. ???? Unnamed female to male story. This one will take place after the events of our lab explosion!
8. ???? Another unlucky soul. or rather lucky. I guess it's all about perspective!
9. ???? Our biggest investor is coming to inspect the lab? Oh crap, this could be bad!
10. ???? And his wife found out about the accident? She's coming to see the lab now too? Talk about bad luck.
11. Zeke holds a neat little game shop not too far off campus, but business has been rather slow lately. One of our scientists might just go out of their way to cheer him up . . . with unforeseen consequences!
Zeke will have an optional bunnygirl/Werebunny transformation.
12. James. Who knows, some people can find some advantages to being turned into a Woman. James is one of these people, and I can assure you he's really loving how people treat him. . . err... her now.
13. ????. ??????
Apart from adding these 12 other characters, we're also planning to revamp the main menu into something much more fitting. The main menu will show characters' male and female forms along with a slight description of their personalities, and elements about their route.
So yeah
I hope you all stick around with us for the ride!
Zetsub will be posting another article next weekend detailing how he plans to tackle writing the character routes!
Oh, and if any of you want to drop by and chat, we're often in our irc channel here -> Bit.ly
-DK
P.S. Though we aren't offering official support for Linux and Mac users at the moment, we hear it isn't terribly difficult to get it working. Just download the .zip from Desura in your browser (not the client), unzip it, and one of the two files should work.