Version 0.0.1.4
Last couple of weeks have been quite busy while getting feedback and fixing every single one of reported bugs. I'm quite satisfied for now. Going to take weekend off and starting to code things on next Monday.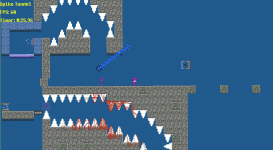 Patch notes:
-While watching the replay, play/stop-button no longer crash the game.
-Trying to play room with nothing in it no longer forces you to restart the game.
-Solid block has smoooooth edges!
-Window/Fullscreen and automatically scaled game window, depending on your display!
-Small fixes here and there, once again.
-If you scale view port manually, it won't stretch graphics in game.
-Changed options layout a bit.
-Fixed zoomkey.
-Some fixes for hallucination mode.
-Mouse grid snap will keep the block inside your current grid rectangle.
-Better keybinding, lot's of more options! (Don't get alarmed from the names).
-Adjust the amount of blood.
-Adjust the amount of other partciles.
-Particles will now spawn when they are inside the view port.
-You can reset the window back to it's original size if you have manually modified it.
-Shadows for solid and normal blocks.
-Implemented background system (Not yet active).
-New block: Assembly Line!
Whew... that's a lot of things for one person.
If you have anything to report, do it via indieDB or send some mail to
circuitconfusion@gmail.com