Hello everyone!Well, this is the first time wrote something about our project "Poltergeist".
Right now we are working as fast as we can. And I can only hope to have everything working and finished properly for our time limit.
In the past days I've finished completely animating the girl, with animations we call "secondary".
These animations she does secondary actions, like sitting or reading a book. There are also sequences where she runs, falls, gets scared and panicked as some examples.These additional animations are designed to give the characters some variety and differentiation between them as well. The idea is that everyone has something unique.There ara some of this variations working, I hope you will like them.

Actually at this moment I am working on the "Ghost-buster" (err. I mean Ghost Hunter, is that copyrighted?). We hope to have it completely finished soon.The Ghostbuster and the Priest are two special characters that usually will block some of your powers.We have decided that they will be characters that are not as weak as a normal character. So they won't fall when they are scared, or curl up in a ball.

And as a final detail, we showed you some time ago an image of an old-time lady. We thought it would be fun to make a partner for her. We think that a poodle would be a nice option.
We called him Poochi (-° u °- ) we can only hope is not as difficult to scare as the first dog of the game!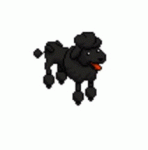 See you later for a new update!
Diana Pacheco