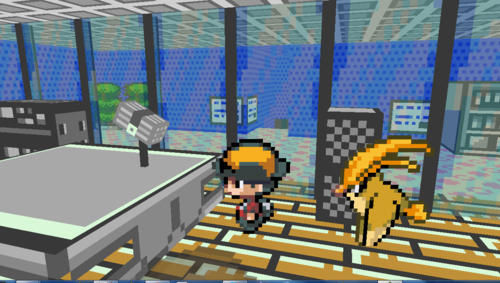 We introduce you to the new version of Pokémon3D: 0.33!
Everyone in the team had a few busy weeks so we couldn't really work on the game so much. But we did anyways and we merged some awesome new features into the new version.
These include the following:
New features:
Pokégear (Ranking list, Phone Contacts, Minimap, Friend List and Radio)
Phone calls and trainer register
Emblem system redone
You can reset your online save and change the gender.
Story Update:
Radio Tower
Underground
Route 44
Smaller Updates:
Shopkeepers in Goldenrod Tunnel
Items in various maps and the Itemfinder (obtainable in Ecruteak City)
More items including EXP Share, Amulet Coin and the type enhancing items (like Charcoal)
Trade evolutions with hold items
Other mysterious features…
Bugfixes!!!
To get the Pokégear, you don't have to restart your game. Just talk to your mom again. She will also give you her number.
To get the new update, simply start the launcher and apply the new update. It will be available in a few minutes.
// The Pokémon3D team