We're doing well with our Crimson Crow project.
Though its the roughest of the rough, we have a much better idea of what should be done, and what should be improved. Heres a few things we've discovered:
No auto-aim or aim helper is used. Picking off a target at 500 yards is no easy task, but when the battle gets up close, bullets will shred through anything. We found this leads to many bullets skimming players. Getting a headshot was instant respect.
Underwater battles were amazing. Bullets speed by with trails were they just were, and with hundreds of bullets flying about, underwater matches become quite tense for a good marksman.
Maps had many neat hiding spots and side buildings to take cover in. Even with the maps barely finished, they were still quite fun.
Map: Quarter District. With underground passage ways, buildings for cover, and a bridge to control, this map quickly became a favorite.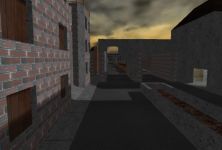 To Crimson Crow: Indiedb.com