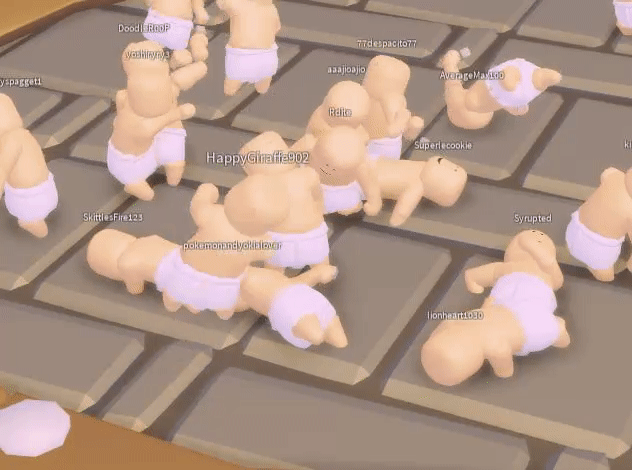 Flopping around is something we like to do at Splitting Point Studios, we pride ourselves in being one of the few studios around that choose Roblox as their main platform of release. In this article we want to cover some information on our new project alongside answering some of the main questions we get when we choose to develop on the Roblox Engine!
BUT WHY ROBLOX?!
The first question we always get when people ask why we choose the Roblox platform is always why, and honestly - at Splitting Point Studios we just love the platform! We are hoping that with our games we start to niche an older audience and create experiences that players can engage and play with on a deeper level than other titles on the platform.
As you can see from the GIF above, we understand the platform pretty well and are able to do crazy cool things. Today we pushed the engine to it's max with around 45~ physically simulated players running around a map. Granted it was pretty laggy and not very fluid, it was awesome to see!
So what about our game Floppy Fighters? What are we planning with this title, well let me list some of the WHACKY ideas we have.
Planned Features
Sandbox mode (whacky contraptions to grab onto, and different toys to play with)
Brawl Mode (Round based combat)
Juggernaut Mode (One player is selected to play the juggernaut and everyone must team up to beat them!)
Free to play!
Early Versions
Programming the physics behind lifting a player up!
Okay, now get the arms lifting him...
And finally!
As you can see from our previous versions that we decided to change the head of the player to fit our own style a little more. Our next move is to add collectible hats the player can customize their player with!
From the Splitting Point Studios Team,
Join our discord: Splitting Point Studios
LINK TO GAME ONLY PLAYABLE SOMETIMES: Floppy Fighters *Unreleased*