In this dice deck-building, roguelike adventure, scavenge the Wyrd and escape the approaching Thing of the Dark. Load your dice with powerful augments to create your own synergies and combos and stack the odds in your favour. In the rabbit hole of the Wyrd, the only way back up, is down.
We've released a sneak peek of the game and we'd love some feedback from the community. The demo was part of the Autumn Steam Game Festival, but it will be available for a few weeks longer. This is a first look at the game and not meant to give a full demo experience. We want to give people an idea of what we're planning and to bring the community along on our journey. We're hoping to release a full demo in a few weeks.
You can download The Endless Wyrd demo here!
We also did a Developer Livestream and Q&A session, where we discuss the current and future features and gameplay mechanics in more detail. You can watch it here.

Sneak Peek Features
In the sneak peek you will experience aspects of the following features and game mechanics:
Item synergies: Build up your deck with powerful items that synergise well together.
Elemental synergies: Elemental effects can synergise e.g. Bleed damage is reduced by Cold and Disease can spread to Cold or Bleeding units.
Interactives: Interact with the environment for new gameplay.
Complex Boss mechanics: It's like encountering a mini raid boss.
Movement mechanics: Your character isn't stuck in one place, which enables you to dodge certain attacks and most items have positional requirements.
Manage your Scent: Strategically progress through the map, Darkness is right behind you.
Unit synergies: Units gain new abilities and interactions when certain types of units are present.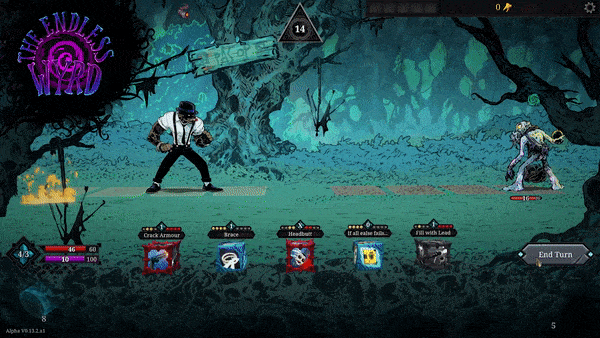 Full Demo Coming Soon
Please note that the sneak peek is not meant to be a full demo but provide a taste of gameplay mechanics and features. However, we will be releasing a full playable demo of the game soon and will launch on Early Access soon after.

Game features that are not included in this sneak peek, but will be in the demo are:
Dice and dice loading: With powerful augments, you can stack the odds in your favour and minimise the RNG.
Upgrade items your way: Upgrade your items in any way that suits your style and deck.
Enemies scale as you progress: Enemies gain new abilities and become stronger depending on what level you encounter them.
Player-Unit synergies: The player can interact with certain units to get beneficial effects that affect combat, e.g. killing a specific unit causes damage to those around it.
Use Sanity: Madness is a double-edged sword.
More of everything: More artifacts, consumables, items and enemies!
Join Our Discord
Join our Discord Server - The community's valuable feedback is an integral part in how development will roll out and the launch of major updates. We believe that with the input of players we can make this game amazing and we'd love for you to be part of this journey!