I am really proud to say that Running Cyborg is part of "Bundle In A Box"'s Indie Dev Grant feature.
What does that mean? It means if you purchase the Indie strategy bundle over at Bundle-in-a-box.com for at least $1.99 you can vote for one of the many amazing Indie Dev Grant nominees.
One of them is of course Running Cyborg. You can check them all out on the following site(yes without actually purchasing the bundle): Idg.kyttarogames.com
In all honesty there are a lot of amazing games taking part in the Indie Dev Grant and also eleven amazing games in the bundle itself so please consider buying the bundle and vote for one of the games.
Now for the actual new things about Running Cyborg:
The game now contains two new Cytroids: Blue and Purple.
While Blue is a rather big and slow one, Purple is actually attacking you with his electric Plasmaswords.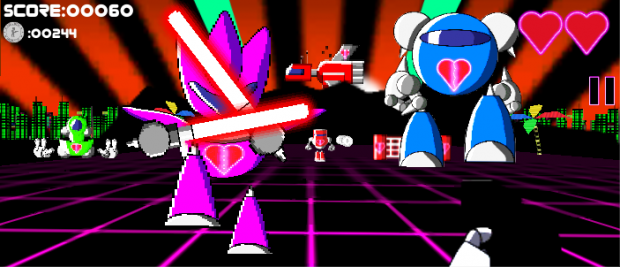 You won't be able to encounter Purple in the normal way. He will appear as some sort of miniboss during your run.
A next new thing is the checkpoint. Every now and then you will encounter a checkpoint from which you will get a bunch of coins(remember that coins are your ammo).
You can actually see Blue and the checkpoints in action in this new gameplay footage:
If you want to test it out yourself, just follow this link:
Siactro.com
Just please keep in mind that this is an early techdemo for you see the overall gameplay and nothing finished or polished yet!
I hope you will enjoy the techdemo as well as the indie strategy bundle and the Indie Dev Grant nominees.