Play the Special New Panta Claus Episode
It's a Pantsmas miracle! A brand new episode of The Legend of Equip > Pants featuring Panta Claus is now playing! Download the newest version of the app on iOS or play in Google Chrome on Windows, Linux, or Mac.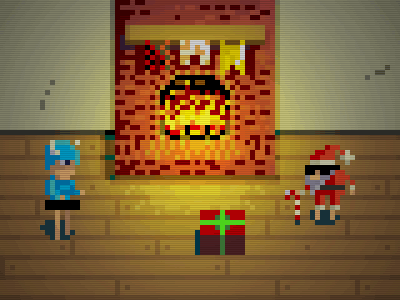 I'm really excited about how the Panta Claus episode turned out, and there's several things that are new compared to the previous episodes! First, there's a rich texture of ambient noise and sound effects. Second, the Panta Claus episode features danger and player death. It's a tough episode, and I hope you enjoy the challenge. Collect health potions and heart containers to stay alive out in the freezing cold and blowing pixel snow. If you do die, at least you will have a somber game over tune to listen to, composed by musician Christopher Winter.
Here's a little teaser video of the new episode!
Wait no longer! Play Legend of Equip > Pants FREE on Chrome!
If you don't have an iPhone or iPad, you have been waiting very patiently in pantsticipation to play The Legend of Equip > Pants. As a special Pantsmas gift to you, you can now play the game FREE on Google Chrome for Windows, Linux, and Mac. Join the 15,000 people who have already played on iOS!