After 18 months of development we are about three weeks to alpha release of Planet Nomads. In a nutshell Planet Nomads is a space sandbox game that combines the three most popular aspects of sandbox games and puts them on the same level of importance.
Building is the way to go to expand your reach and increase your survival chances. We have decided for a lego-style building using individual blocks for maximum freedom and building options - alpha will have some 50 block types already.
So without further ado...
The Alpha Release Date Is Set for 25th August

On this date, Planet Nomads Alpha-Tier Kickstarter backers together with nomads who have preordered alpha access on PN website will receive a STEAM key to their e-mail inboxes. This key can then be used to immediately activate Planet Nomads on STEAM, download and play. Planet Nomads will be available on WINDOWS, LINUX & MAC.
What Features to Expect from the Alpha
Building, BuildVision, Weather and the characteristics of the first planet summed up in Nomadic Journals Episode 3.
WILL PLANET NOMADS RUN ON MY RIG?
We've tested Planet Nomads on a limited number of systems, so the requirements below serve as a general benchmark for Planet Nomads performance. They are pretty accurate, just don't ask us about all possible hardware configurations yet, as we don't know at this point. As alpha-testing goes on and people do extreme stress tests we'll know more.
The Minimum Requirements to run the game are as follows:
CPU: i3 - 6300 / AMD FX 6300
4 GB RAM
NVIDIA GTX 550ti / R7 260x
Recommended Requirements for playing Planet Nomads:
i5 4690 / AMD FX 8370
8 GB RAN
GTX 960 / R9 280x/380

If you are not sure whether your specs are fit for the job, try some Googling and comparing their performance with the above listed specs. Or head on to Planet Nomads forum and ask fellow Nomads for their opinion.
The alpha will have options to customize the graphics to fit your rig as best as possible. The minimum requirements run the game on Medium settings on 30+ FPSs so there should be some wiggle room left, but we wanted to be safe than sorry, and only with real life playtests will we know for sure.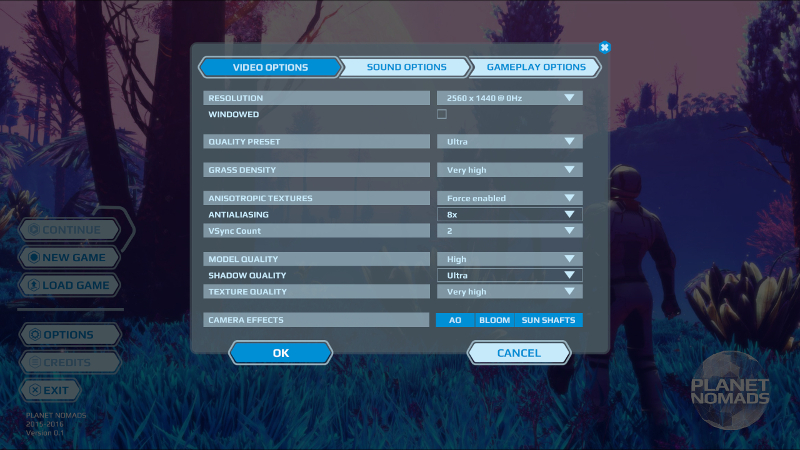 WOULD YOU LIKE TO JOIN ALPHA-TESTING?
Alpha access will be available until early September, so if you want to join and help us build up this puppy, please visit Planet Nomads website and support its development by preordering now.
Thanks for reading all the way. If you have any questions, leave a comment or join us on PN forums.
Take care.