Hey Guys. This is the first of what will hopefully become many, many developer diaries about the progress being made on Pizza Protectors. This time I've decided to talk about guns. Not that I'm the violent sort, but for the past few weeks, guns has been one of the main development areas. So if you've looked at any of my previous screenshots or the game's box art you'll notice that the baguette gun is still an early placeholder…

So I decided that it was about time that I actually got round to making a proper weapon. I started off drawing some (really bad) concept art, and then I took my design and made a model that was loosely based on it, but really wasn't. I then textured this using a basic image editing program and "BAM" a more presentable gun.
Next I decided to make another gun. This second gun would later become the new mini gun power up. This idea was given to me by a friend and so I went away and made it. Here you can see the item in game.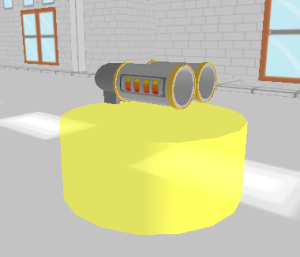 So that's what I've been up to. I hope to get a demo out soon, we're just waiting for Tom (our music guy) to produce some tracks for the early levels. I hope you've enjoyed this insight into Pizza Protectors development and look out for more developer diaries soon.