I recall enjoying lots of early computer games in my childhood with pixel graphics, blurry textures and minimal amount of graphic effects. And who doesn't? They had definitely a tint of charm and best of them tried to put the gameplay and storyline before the picture. On the contrary most of the modern-era games look like they where shot by Bay or Spielberg in real life post-apocalyptic-underwater-space-whatever environment although being terribly dull inside.
Today we're going to explore strange signal that originated from some point on Jupiter orbit in Project Amalthea: Battlegrounds world. The game is known for fast PVP battles but still have some PVE content and that new "dungeon" is among them. Meet Anomaly, 1-4 player co-op map in purple colors and in completely insane setting. And insane is not just a figure of speech.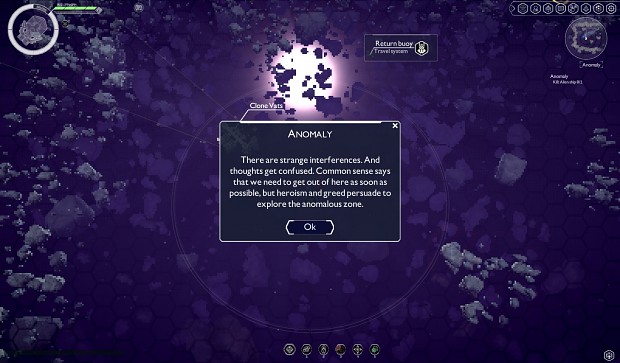 Protagonist is here to explore the source of strange signals causing navigation interference. Also the quest tasks on the right hints that an Alien ship is involved! But wait, what that means?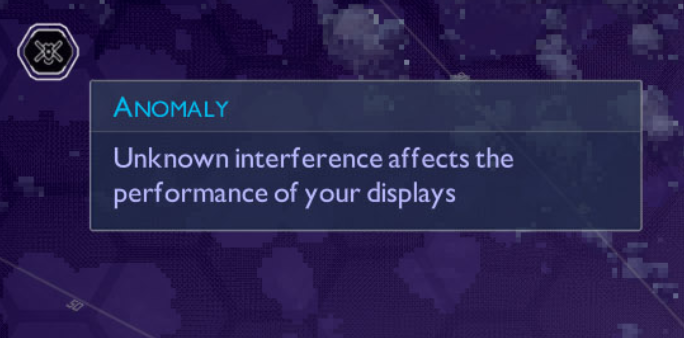 I thought that something is wrong with my video card until I realized that was an intentional graphics effect. Wow! The pixels are huge on regular screen and somewhat strobe when you move, but strobing effect is much less annoying on High-DPI display. (Don't forget to click the pictures to see full size image). Anyway I got used to it in a minute. Then I found that pixelation is not the only anomaly effect - all of location dwellers are little bit cuckoo. And after flying there for a few minutes I'd bet I'll be joining them rather sooner than later. That started with guys complaining about stars in their heads. Then a drone offered me a laser sight correction and called for a few dozens fellows to perform the correction albeit my refusal. Another one was eager to show me his beautiful rocket...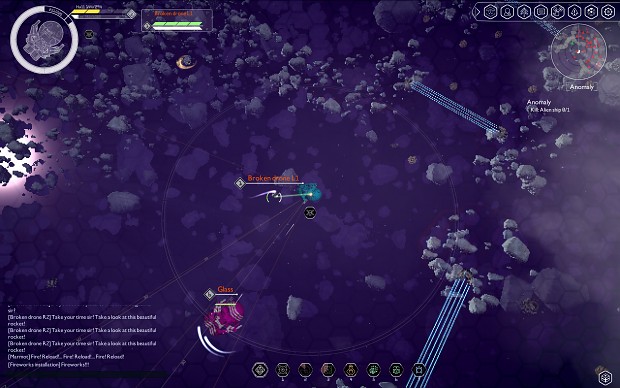 And there is also a firework party that scared the sh*t out of me until I realized that they ARE just some fireworks and do neglectable amount of damage albeit looking scary. Funny thing that actual effects, names, GUI and other stuff are not pixelated applying the effect only to ships and asteroids.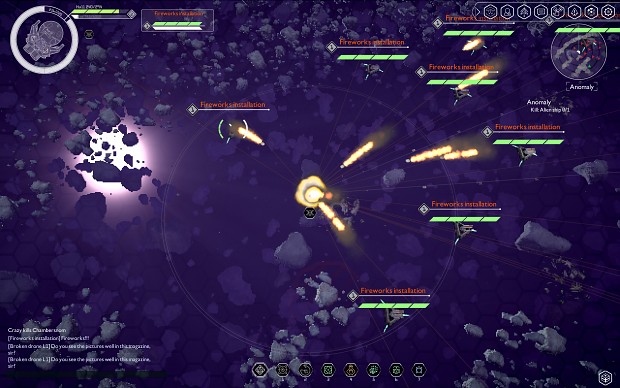 There is also an enormous maze that reminded me the Alice in Wonderland. The difference that it's in space, tightly stuffed with proximity mines and not a hedge at all!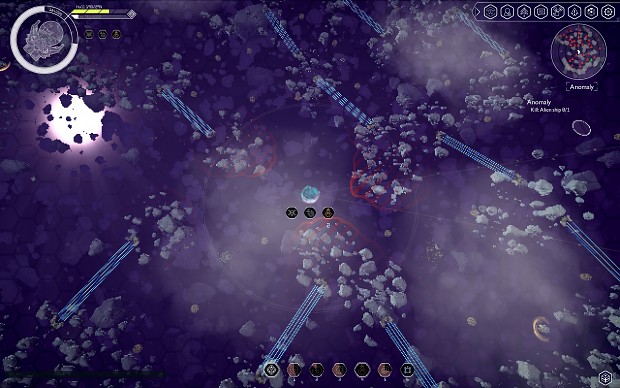 But the level of craziness is definitely somewhere near the Carrol's book. At least I though so before meeting the One-Punch Man. He has changed a bit from the manga and TV shows to the cosmic era. But one thing still intact: he kills with a single punch. Long recoil is the only thing that keeps that monster at bay. I "only" died a half a dozen times during this encounter.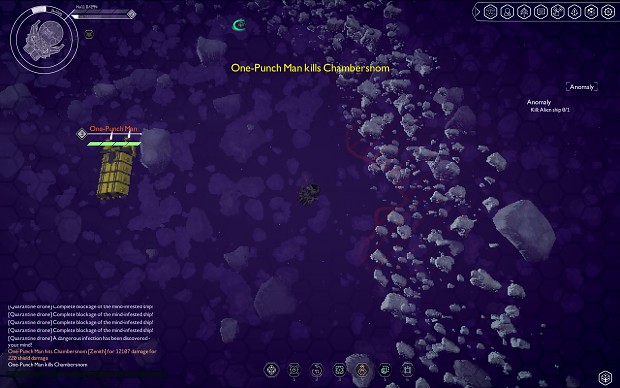 And then there also was a short fused Marmot guy who sets everything on fire every 5 seconds, completely loony Brawler (well, you'll get used to all sorts of insanity there), guy named Glass shouting "Just run before I go nuts!!!" (like he wasn't nuts before) and swarm of lesser drones (crazy as well!) claiming they found the source on infection and apparently it's in my head...
The final encounter was a little bit short and not as crazy but I won't spoil it anyway. The only thing I could tell that the reward was worth it. And yes, game designers are definitely off their rocker!
P.S. Here goes short gameplay movie: