Development Update 02:
Its time for a new weekly devlog :D
- Added Basic Random Dungeon System
+ System also uses seeds to save Disk Space
+ Random placed vines
+ Added and implemented Climbable Objects
+ The Dungeon is completely random generated and will be accessable through dungeon entrances that will generate in the overworld
+ Random placed Treasures (Locked and Unlocked Treasures)
+ Added Dungeon Exit
Planned : Random Item Spawning
Planned : Random Monster Spawning
- GUI
+ Implemented new GUI Features for example you can now take on item, put it on another and both items change ther slots
+ Better and 3 Times Quicker item Saving
+ Added Item Texture Id set system. Now i can add items really quick without writing much more code.
+ Added item holding system : Items in Slot A (lower left corner of the screen) will now Show in the Players hand.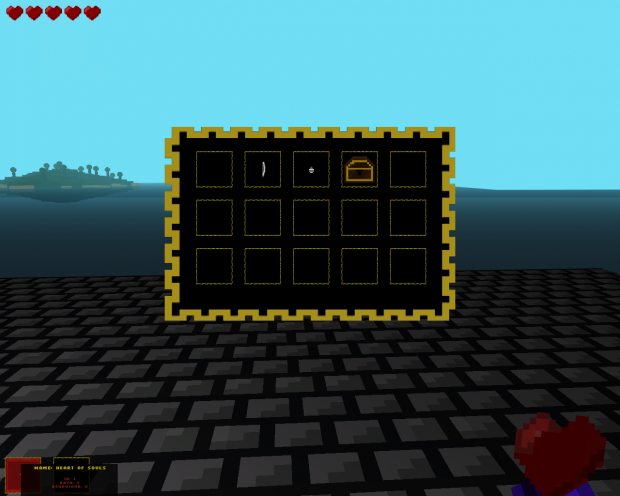 + Added Bomb item Texture
+ Added Max Health GUI [Black hearts behind the red hearts]
Planned : Color Saving
- General Additions:
+ Added Item ID system => I can now easyly add functions to every item
+ Added Heart Item (Adds 10 Healthpoints to the Player[1 Heart])
+ Added HeartContainer System (if you lose live you will see how much your Max health is)
+ Added Respawning system
+ Added Lava (If you fall into it you will rapildy lose health and if you die you will respawn)
+ Added Lava effect
+ Added Oxygen GUI which shows when you are in water[currently does nothing ;D]
+ Implemented Simple FPS Counter
+ Added dying system (currently you lose no stuff when dying
[i am not sure if you will lose your stuff when you die])
- Last Minute Fixes:
+ Fixed camera bug
- Todo List for next week:
+ Make GUI System able to save sword Colors and Potion Colors(nearly done)
+ Fix Tree unloading Bug which decreases FPS by arround 25percent (-_-)
+ Make Items able to be picked up (nearly done)
- Todo List for next month:
+ Better Island generation and More Biomes
+ Random Generated Loot
+ Better dungeons (i allready like them yet but i think they can be better :D)
+ Basic Enemys
And i did all of this in my spare time :D