Alongside an infinite list of improvements, we're developing some last small mechanics too, some of which will make influencing the simulation better – concepts that include donation boxes, poisoning of food (sources), spreading rumors and attracting hostile critters. Exciting stuff!
Here are some highlights of what we worked on.
Combat!
One of the biggest areas of the game that needed an upgrade was combat. The physical combat with all the species needed a lot more nuance and motion to make it more dynamic and give the player more options.
We have added some really cool Pine-specific mechanics, such as species eating during combat as well as a shield stamina system – as well as tweaking and polishing all moves and animations for both the player and the species.
Click the image to view the video: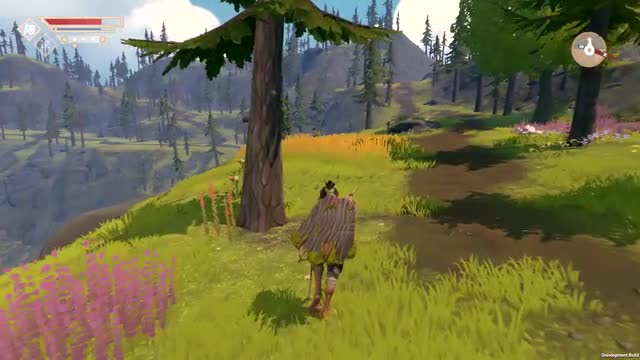 We will do plenty of combat improvements still, as we've built that combat editor we showed, which makes it easy to iterate once the moves are solid. Sounds, effects and more need to be updated more too.
Ambient audio to the next level
As a short sidenote with the video above: we are super happy with our new ambient sound system, which is tied literally to the objects in the scene, meaning you will hear trees and bushes rustle only when you're next to them, and bird sounds coming from trees! It gives a lot of depth to the space you move around in, have a good listen!
The human story
Plenty of cutscenes and dialogues are making it into the introduction of the game, as Pine is obviously also still an adventure game at heart. The story of the humans is rather sad, but it's up to Hue to do something about it.
A whole barrage of tools and outfits
We're going through the list of tools and outfits at super speed, all bringing their own set bonuses or tool specifications. Here are some random combinations, featuring more than a few species-pieces:
Or check out this Feather Bow!Vaults, setpieces and Albamare
So much work is being done on all areas of the open world, that we can't start to mention the new changes. But a few highlights and setpieces do stand out! Here's a glimpse of the updated Dry Bay Tower…
Click the image to view the video: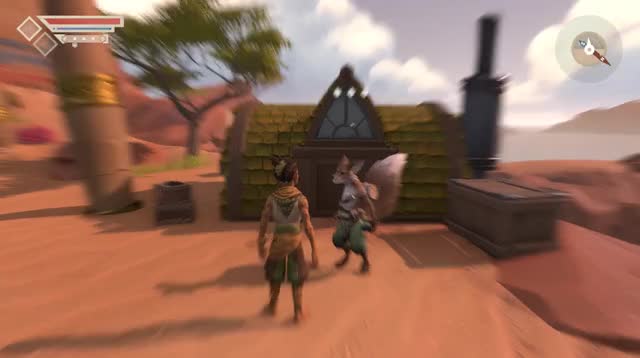 And some more screenshots, in case you missed them on our Steam or Kartridge page: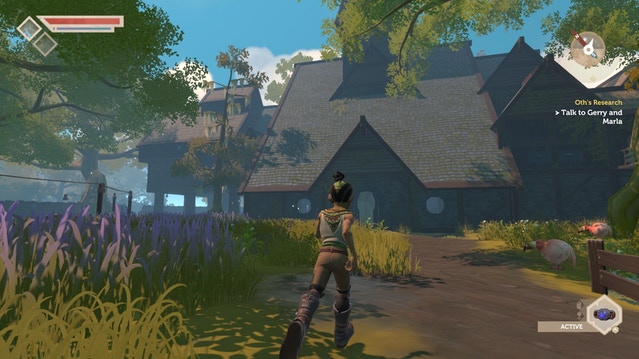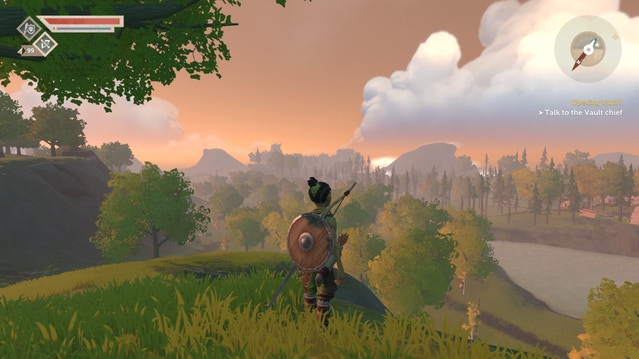 Beta news
Because many of you are wondering, we wanted to share some news about the beta. We intend to bring it to backers of the Outfinder tier or higher within the next month, now that we are confident about our game from start to finish.
It's later than we initially planned, but it didn't make sense for us to give a product of which we knew so much was wrong still. For good feedback and your good impressions, we think it makes most sense to give the product as complete as possible, while still allowing for a lot of improvements based on your feedback.
Some important things about the closed beta:
Our main goal with the beta is to get your feedback and improve everything we can towards release.
Be aware that it is the full game in the state it's in. This means it will definitely spoil the story and locations for you, as those won't change much.
HOWEVER, as the game is very systemic and simulation-driven, it is definitely encouraged to play it again when it comes out, and you'll see that the experience is quite different. You can work with different species, might choose a different order for the main quest and encounter different battles and trades.
Savefiles will not be compatible with the final version of the game, as we might change around the order of quests or chapters, rendering your savefile incoherent with what was supposed to come before it.
The beta cannot be streamed or recorded for external viewing purposes. We do this not because we don't like footage coming out, but because we've noticed how long 'old' footage can linger above new footage, and we'd like to give the game a fair chance when it comes out, showing interested people what the game actually is like, rather than what the beta is like.
We'll share news on the beta when we have it to the respective tiers. Soon!
That's it for now!
That's it for this update! We hope we gave you a good glimpse into what's happening. Please let us know if things are too spoiler-y, as that is a thin line… For now, we'll get back to work!
As always, all feedback, questions and comments are welcome. Feel free to reach out through pine[at]twirlbound.com, on IndieDB, on Reddit, on our Discord server, Facebook or Twitter.